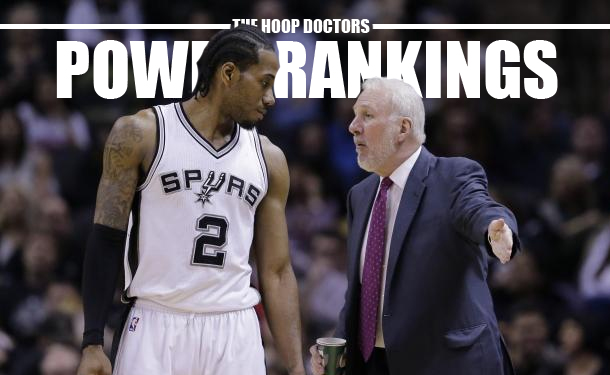 Our power rankings introduction is, for one week only, about to change.
Most of the time, we wax distasteful snark that recaps all of the NBA's major happenings over the past week, an approach aimed at teaching a crash course in almost everything you need to know. This week, though, you only need to know one thing: The Spurs are absolute monsters.
Following their beat down of the Jazz on Monday night, the Spurs now own the Association's best net rating, placing themselves ahead of even the historically great Warriors. And they've arrived here, lording over most of mankind, while flying under the radar despite deploying a top-three offense and defense.
Something tells me that, like in years past, this is about to change.
The Spurs aren't coming, they're here, and they're taking no prisoners.
***For a week by week list of all our NBA Power Rankings this season, please visit this page.
NBA Power Rankings
| | |
| --- | --- |
| 1 | |

Golden State Warriors

Well, the streak is over, which clearly means the Warriors suck—so long as going 71-1 over the course of an 82-game schedule sucks.

Last Week (1)

| | |
| --- | --- |
| 2 | |

San Antonio Spurs

There are no words for the Spurs anymore. They be good.

Last Week (2)

| | |
| --- | --- |
| 3 | |

Oklahoma City Thunder

Somewhat quietly, the Thunder have worked their way into a special sentence: "There's Golden State, there's San Antonio, there's Oklahoma City, and then there's everyone else."

Last Week (3)

| | |
| --- | --- |
| 4 | |

Cleveland Cavaliers

Kyrie Irving is nearing return not a moment too soon. The Cavaliers' hold on the Eastern Conference is down to a mere game, despite the efforts of LeBron James, Kevin Love and, yes, Matthew Dellavedova.

Last Week (4)

| | |
| --- | --- |
| 5 | |

Boston Celtics

This one-spot bump is brought to you buy the Celtics' almost-victory over the Warriors, which was then followed by an actual victory over the surprising Hornets the very next night. Color me impressed.

Last Week (6)

| | |
| --- | --- |
| 6 | |

Indiana Pacers

So, like, are we ready to call Indiana the biggest threat to Cleveland's Eastern Conference throne or nah?

Last Week (5)

| | |
| --- | --- |
| 7 | |

Toronto Raptors

It's all coming together for the Raptors. Their collapse against the Pacers in mind, they're still flirting with a top-10 offense and defense, and that's always good news.

Last Week (10)

| | |
| --- | --- |
| 8 | |

Charlotte Hornets

Watching the Hornets on offense is fun. Like, really fun. There's a ton of screens and ball-movement and off-action motion. It's like a super-poor man's Spurs system—and that's one of the highest compliments one can give.

Last Week (9)

| | |
| --- | --- |
| 9 | |

Chicago Bulls

Tying the Raptors for the East's second-best record is impressive enough, but the Bulls offense is too awful to be trusted long term.

Last Week (13)

| | |
| --- | --- |
| 10 | |

Miami Heat

Every time I watch the Heat, I'm left thinking they're somehow overrated and underrated at the same time. I blame their offense.

Last Week (7)

| | |
| --- | --- |
| 11 | |

Los Angeles Clippers

Hear that? It's the sound of the Clippers' heartbeat. Let's see if they permanently leave their coma behind.

Last Week (11)

| | |
| --- | --- |
| 12 | |

Orlando Magic

Scott Skiles deserves a lot of credit for turning this unit into a defensive dynamo. Channing Frye deserves some dap for hitting all the threes.

Last Week (16)

| | |
| --- | --- |
| 13 | |

Dallas Mavericks

The Mavericks' season in a nutshell: They rank inside the top 15 but outside the top 12 of offensive and defensive efficiency.

Last Week (12)

| | |
| --- | --- |
| 14 | |

Detroit Pistons

Reggie Jackson is the Pistons' second-best shooter behind Ersan Ilyasova. Think about that. It's simultaneously awesome and awful.

Last Week (17)

| | |
| --- | --- |
| 15 | |

Atlanta Hawks

"Paging the Hawks offense. Paging the Hawks offense. Paging the Hawks offense."

Damn, it didn't answer. Again.

Last Week (9)

| | |
| --- | --- |
| 16 | |

Houston Rockets

Don't mind me, I'm just gonna be over here, twiddling my thumbs, throwing awkward glances left and right, as I come to terms with Clint Capela being more valuable to the Rockets than Dwight Howard.

Last Week (20)

| | |
| --- | --- |
| 17 | |

Memphis Grizzlies

Good on head coach Dave Joerger for trying to play small. Too bad the Grizzlies are only built to play big and slow and, by extension, poorly.

Last Week (15)

| | |
| --- | --- |
| 18 | |

Phoenix Suns

That the Suns are fielding a borderline top-10 offense while relying on oversized doses of Jon Leuer and Mirza Teletovic and bearing witness to a Markieff Morris crap fest is fairly incredible.

Last Week (19)

| | |
| --- | --- |
| 19 | |

Utah Jazz

Good news: Utah is surviving defensively without Rudy Gobert.

Bad news: Its offense still sucks.

Last Week (14)

| | |
| --- | --- |
| 20 | |

Portland Trail Blazers

Ed Davis is leading the Blazers in win shares per 48 minutes. THIS IS NOT A DRILL. Ed Davis is leading the Blazers in win shares per 48 minutes.

Last Week (21)

| | |
| --- | --- |
| 21 | |

Minnesota Timberwolves

Can the Timberwolves, like, run off 25 straight victories or so? They're too fun not to be in the West's playoff picture.

Last Week (18)

| | |
| --- | --- |
| 22 | |

Milwaukee Bucks

This three-spot bump is brought to you by the Bucks successfully pooping on the Warriors' party.

Last Week (25)

| | |
| --- | --- |
| 23 | |

New York Knicks

Derek Fisher has finally come to his senses and is once again playing Kyle O'Quinn more than Kevin Seraphin. All that's left for the Knicks to do is to bench Derrick Williams and stop taking stupid-ass mid-range shots in excess.

Last Week (23)

| | |
| --- | --- |
| 24 | |

Denver Nuggets

Nikola Jokic has my vote for the "Rookie Who Would Enter Peripherals of Rookie of the Year Discussion If Not for Kristaps Porzingis and Karl-Anthony Towns" award.

Last Week (24)

| | |
| --- | --- |
| 25 | |

Sacramento Kings

Well, hey now. George Karl has worked his magic on the Kings offense. We're not going to talk about their defense, because it's super shitty, but OH MY GOD LOOK HOW PRETTY THE TOP-12 OFFENSE IS.

Last Week (27)

| | |
| --- | --- |
| 26 | |

Washington Wizards

Kevin Durant is not impressed.

Last Week (22)

| | |
| --- | --- |
| 27 | |

New Orleans Pelicans

Anthony Davis officially deserves better, and Ben Simmons will do.

Last Week (27)

| | |
| --- | --- |
| 28 | |

Brooklyn Nets

Sitting through Nets games is a painful experience that makes you wonder whether you're not better off showering with a live toaster.

Last Week (28)

| | |
| --- | --- |
| 29 | |

Los Angeles Lakers

Random but relevant: Jordan Clarkson and D'Angelo Russell could be a really fun, effective backcourt two years down the line.

Last Week (29)

| | |
| --- | --- |
| 30 | |

Philadelphia 76ers

Serious question that is actually serious even though it seems more funny than serious: What's more likely to happen, the Sixers win two games in a row or the Warriors lose two games in a row?

Last Week (30)