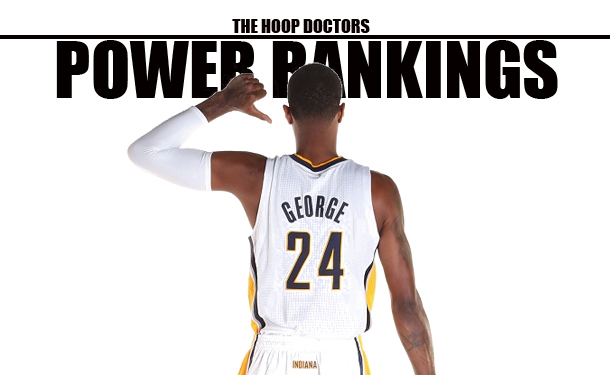 More than a month into the 2015-16 NBA regular season, everything is just as we thought it would be.
LOL, jk.
Much about the league's landscape does make sense. The Warriors are godlike. The Spurs are right behind them. No one in the Eastern Conference can touch the Cavaliers.
Not much else makes sense, though.
The Clippers, Rockets and Wizards are struggling, while the Pacers and Hornets are threatening to take over the world. The Magic are inching toward the East's playoff bubble, while the Bucks continue to accidentally tank. The Timberwolves are flirting with Western Conference playoff contention, while the Pelicans drift further and further into the abyss.
Weird things are happening in the Association, and we're here to cope the only way we know how: by power ranking the chaos.
***For a week by week list of all our NBA Power Rankings this season, please visit this page.
NBA Power Rankings
| | |
| --- | --- |
| 1 | |

Golden State Warriors

Because, you know, who else?

Last Week (1)

| | |
| --- | --- |
| 2 | |

San Antonio Spurs

The Spurs offense really needs to get its shit together. At the same time, the defense is so scary, maybe it doesn't.

Last Week (2)

| | |
| --- | --- |
| 3 | |

Cleveland Cavaliers

If the Cavaliers could just start games a little bit better, they'd be absolutely, positively scary. Right now, they're just really good.

Last Week (3)

| | |
| --- | --- |
| 4 | |

Oklahoma City Thunder

Isolation basketball has been good enough for the Thunder thus far. But it wasn't good enough to beat the Hawks on Monday night, and it won't be good enough long term.

Last Week (5)

| | |
| --- | --- |
| 5 | |

Indiana Pacers

Holy "Paul George is an MVP candidate" and "C.J. Miles" is on a top-five contract.

Last Week (13)

| | |
| --- | --- |
| 6 | |

Atlanta Hawks

Consider this a benefit of the doubt pick. A gutsy win over OKC doesn't change the fact that both Atlanta's offense and defense have been mildly disappointing.

Last Week (6)

| | |
| --- | --- |
| 7 | |

Chicago Bulls

Less Derrick Rose and dual-big lineups please. OK? Thanks.

Last Week (10)

| | |
| --- | --- |
| 8 | |

Miami Heat

Life needs to be injected into the Heat's offense—like yesterday.

Last Week (4)

| | |
| --- | --- |
| 9 | |

Boston Celtics

Most of the numbers say the Celtics should be better. But they're still hovering around .500 as head coach Brad Stevens continuously tinkers with the rotation and the offense sputters beyond silver linings.

Last Week (8)

| | |
| --- | --- |
| 10 | |

Utah Jazz

Once the Jazz start playing with some semblance of watchability on the offensive end, they'll be great. For now, they're just good.

Last Week (11)

| | |
| --- | --- |
| 11 | |

Toronto Raptors

Kyle Lowry: still a beast.

Last Week (13)

| | |
| --- | --- |
| 12 | |

Charlotte Hornets

Almost one-quarter of the way through the season, Hornets have a top-five offense—just like none of us predicted.

Last Week (16)

| | |
| --- | --- |
| 13 | |

Dallas Mavericks

The Mavericks' schedule figures to catch up with them at some point. In the meantime, they're capitalizing on the baffling batch of chaos that is the Western Conference.

Last Week (9)

| | |
| --- | --- |
| 14 | |

Los Angeles Clippers

Should we just declare the Clippers pretenders now or nah?

Last Week (17)

| | |
| --- | --- |
| 15 | |

Memphis Grizzlies

Despite having a lower net rating than the Knicks, and an offense that sucks something awful, the Grizzlies are above .500. Life doesn't make sense.

Last Week (15)

| | |
| --- | --- |
| 16 | |

Orlando Magic

Scott Skiles is placing stock in analytics. Color me impressed.

Last Week (22)

| | |
| --- | --- |
| 17 | |

Phoenix Suns

Jeff Hornacek's liberal use of Jon Leuer bizarre. His ridiculous three-point success rate makes it less bizarre, but it's still freaking bizarre.

Last Week (12)

| | |
| --- | --- |
| 18 | |

Minnesota Timberwolves

Karl-Anthony Towns #AllStarBallot

Last Week (21)

| | |
| --- | --- |
| 19 | |

Detroit Pistons

Mah, oh man, the Pistons' offense is baaaaaaaad.

Last Week (17)

| | |
| --- | --- |
| 20 | |

New York Knicks

One of these days, or months, or years, Derek Fisher's rotations are going to make sense.

Last Week (18)

| | |
| --- | --- |
| 21 | |

Washington Wizards

Is Kevin Durant impressed yet?*

*LOLOLOLOL no

Last Week (19)

| | |
| --- | --- |
| 22 | |

Portland Trail Blazers

Mason Plumlee fever is going around.

Last Week (26)

| | |
| --- | --- |
| 23 | |

Houston Rockets

Every time you think the Rockets turn a corner, they crash into a wall.

Last Week (25)

| | |
| --- | --- |
| 24 | |

Sacramento Kings

Rajon Rondo's individual stats look fun and all, but the Kings are better on both ends of floor without him, according to NBA.com. So, yeah…

Last Week (23)

| | |
| --- | --- |
| 25 | |

Milwaukee Bucks

#TradeGregMonroe

#OnceHeIsAllowedToBeTraded

#WhichIsOnDecember15

Last Week (20)

| | |
| --- | --- |
| 26 | |

Denver Nuggets

Things have taken a stark turn in Denver. Can't help but think the Nuggets are better off dumping Kenneth Faried and going all in on the pursuit of Ben Simmons.

Last Week (24)

| | |
| --- | --- |
| 27 | |

Brooklyn Nets

"Hey, it could be much worse for the Nets." -People who don't realize that no, it can't get much worse for the Nets.

Last Week (29)

| | |
| --- | --- |
| 28 | |

New Orleans Pelicans

How long until the Pelicans bubble wrap Anthony Davis and just tank?

Last Week (28)

| | |
| --- | --- |
| 29 | |

Los Angeles Lakers

Goodbye, Kobe Bryant. Hello, top-three-protected pick that probably won't be headed to Philly this summer.

Last Week (27)

| | |
| --- | --- |
| 30 | |

Philadelphia 76ers

Bold prediction: The Sixers will actually win a game this season.

Last Week (30)