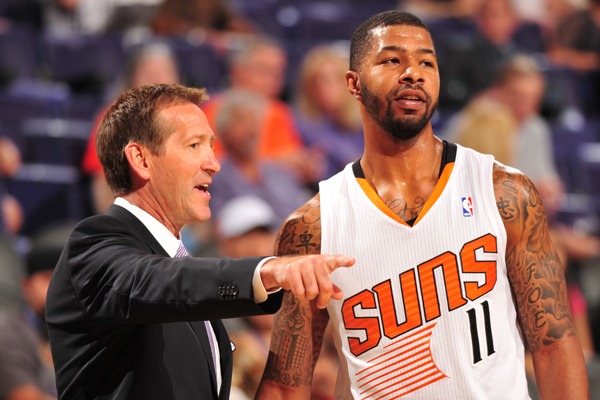 Markieff Morris may just net the Phoenix Suns something in a trade after all.
Things between the combo forward and his team aren't good. We know this. Morris' play has arguably been just as bad, seemingly torpedoing his trade value. His effective field-goal percentage has never been lower, he just wrapped a two-game, team-sanctioned suspension for butting heads with head coach Jeff Hornacek, and the trade demand he made after Phoenix traded his brother, Marcus, limited any value he might hold from the jump.
In recent weeks, it's looked as if the Suns would need to sell incredibly low or even attach a pot-sweetener to Morris' deal if they wished to move him. But Sports Illustrated's Chris Mannix maintains that isn't the case:
Lot of posturing out there about Markieff Morris trade value, but several teams still really like the 3-4 combo forward w/good contract.

— Chris Mannix (@ChrisMannixSI) December 28, 2015
Too much bad blood for Markieff to be salvaged in Phoenix, but belief is he can thrive elsewhere, like twin Marcus in Detroit.

— Chris Mannix (@ChrisMannixSI) December 28, 2015
This isn't an unreasonable take. Morris is an understated passer, he has improved his catch-and-shoot stroke this season, and his contract is absolute gold. He won't earn more than $8.6 million in any given season through 2018-19. Those types of contracts don't exist this side of the impending salary-cap boon—not for players who do what he does.
But while that should allow the Suns to avoid forking over assets of their own in any trade, it's tough to imagine them getting anything or anyone substantial back in return. They have no leverage because of Morris' longstanding trade request, and the idea that teams would trade more established, even-keeled commodities, such as Ryan Anderson or Terrence Jones, for an affordably priced question mark still feels absurd.
For Morris to truly net Phoenix measurable assets, he simply has to play better.
Figuring out how to play nice with Hornacek wouldn't hurt, either.