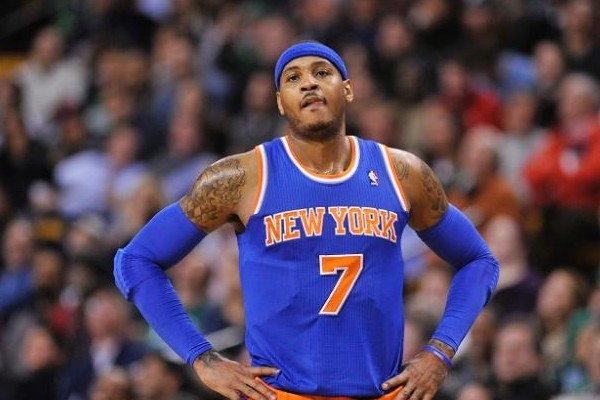 At 31, with an NBA title window that's rapidly drawing to a close, Carmelo Anthony often looks out of place on the New York Knicks.
Indeed, the Knicks, unlike last season, are watchable. Rookie Kristaps Porzingis is proving that he's NBA-ready, not a years-long project, and New York might even contend for a playoff spot if it gets its rotation and fourth-quarter act together. But they are not on the brink of a title, and Anthony isn't getting any younger. Though he owns a no-trade clause, there is a natural impulse to demand that he and the Knicks dissolve their partnership. Team president Phil Jackson and general manager Steve Mills should suss out trades for the perennial All-Star, find one that suits their needs and that Anthony approves and then push forward with their rebuild, tailoring their future for and around Porzingis.
That isn't the plan in New York, though. And it's become even less of a blip because of Porzingis. He's so good, so soon, that the Knicks have renewed hope in their model. They can let Porzingis develop and win. They can sell free agents on the partnership between Melo and the Latvian. They can rebuild the right way without having to move the only patented superstar they have.
To that end, according to ESPN.com's Zach Lowe, the Knicks haven't even entertained the idea of moving Melo:
The team has never really thought about trading Carmelo Anthony, Mills says. "Never," he says. "Period." (Let's just say some around the league are skeptical the topic has never come up in the MSG boardrooms). Even as Greg Monroe, LaMarcus Aldridge and other stars rejected them last summer, the Knicks never lost faith in New York's gravitational pull — provided that free agents can see at least some viable path to 50-plus wins.
Cloaks and daggers seem to be at play here.
Any self-respecting team that understood the gravity of the Knicks' situation prior to Porzingis' breakout would have at least discussed the possibility of severing ties with Anthony. Even if nothing ever materialized, even if he was never actually available to the highest bidder, a discussion had to have taken place.
The Knicks' decision to not act on that temptation once would have been deemed foolish. There are those now who will hold that stance. For all the Knicks' improvement and promise, Anthony still looks out of place.
But, by all appearances, Carmelo Anthony wants to be in New York. And for now, while the Knicks are far from a finished product, Porzingis is good enough for them to justify keeping him.