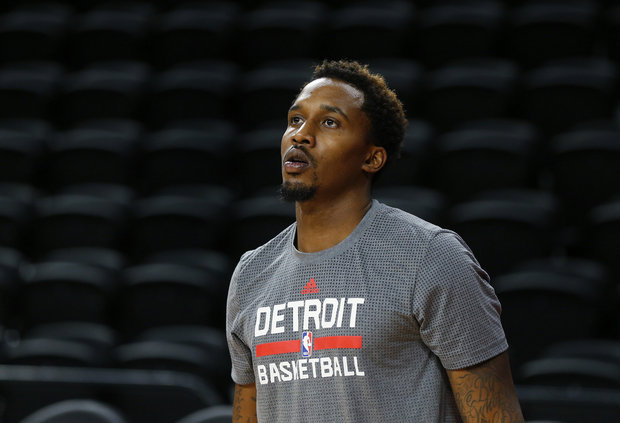 In search of a point guard not named Jose Calderon to direct their offense, the New York Knicks are turning attentions toward…Brandon Jennings.
Yes, him.
The one-time Knicks killer while with the Milwaukee Bucks only recently returned from an Achilles injury. He made his season debut for the Detroit Pistons against New York on Tuesday night and the returns were promising. He finished with seven points and four assists on 2-of-4 shooting in just under 17 minutes of action.
And according to the New York Daily News' Frank Isola, the Knick will be monitoring his progress closely:
And that's where Jennings re-enters the picture. The Knicks, according to a source, have interest in several point guards including Jennings, who finally returned to the lineup after rupturing his left Achilles tendon nearly 11 months ago. That's a red flag right there. Jennings went 2-for-4 with seven points and four assists in 17 minutes in his season debut.

Of course, the trading deadline is two months away, which gives Jennings plenty of time to prove he can still be a starting-caliber point guard. "Oh yeah, I don't think there is any doubt," said Pistons coach Stan Van Gundy. "Brandon is coming back well off of the injury and he's a guy who just absolutely loves to play, loves to be in the gym. He's still young, he's still 26. I don't think there's any doubt he'll be a starting point guard in this league again."
That Stan Van Gundy quote is actually an important element of this speculation. He's rebuffed rumors that suggested he was open to trading Jennings in the past. But if he's saying he'll be a starting point guard again, he knows it won't be with the Pistons. Reggie Jackson has that role on lock.
Jennings isn't the floor general who will solve all of the Knicks' offensive woes. He is undersized at 6'1″, doesn't play defense at a high level all the time and is prone to spurts of inexplicable and erratic shooting. But he is more of a driver than Calderon, and he has a better shooting touch, both on and off the ball, than Jerian Grant.
That Jennings is a low-risk gambit only makes him more appealing.
Investing in anyone working their way back from an Acilles tear is always risky business, but Jennings' $8.3 million salary comes off the books this summer. If the experiment goes bust, the Knicks have the option of cutting bait with him almost immediately.
This is one of those moves, though, that only makes sense if the price is right, and it's unclear which players the Knicks would be willing to move. Calderon has served as a mentor to rookie Kristaps Porzingis, but if the Knicks are looking to open up cap space ahead of this summer's free-agent bonanza, a package could be built around him.
In the meantime, expect the New York to be linked to every available point guard possible.