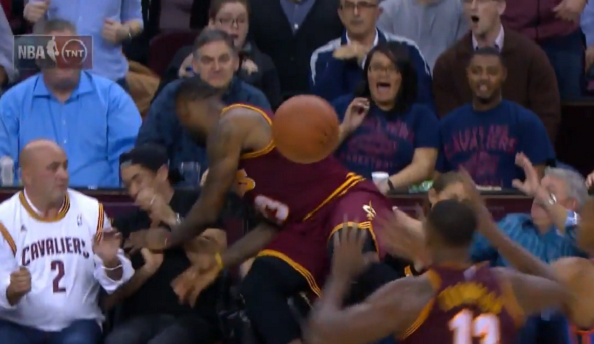 In order to get a courtside seat for a Cavaliers-Thunder game you will have to pay a pretty penny, but professional golfer Jason Day's wife Ellie Day paid for the experience in a different way: getting toppled by a 260 pound LeBron James diving for a basketball.
Midway through the fourth quarter of the Cavs-Thunder game in Cleveland last night, James dove to save a ball from going out of bounds after a jump ball and lost his balance falling on Day and taking her and himself to the ground
Scary moment at Thunder-Cavs as LeBron accidentally crashes into Jason Day's wife while going after a loose ball: https://t.co/iiO6ppt5Hv

— ESPN (@espn) December 18, 2015
Ellie Day was taken out on a stretcher to stabilize her neck after the neck trauma and was transferred to a nearby hospital overnight.
Jason Day's wife is out of the hospital after scary collision with LeBron James https://t.co/HwMeG2aXy5 pic.twitter.com/KfyxjSXb6L

— New York Post Sports (@nypostsports) December 18, 2015
Thankfully according to reports she appears to be doing fine and was released from the hospital this morning.
LeBron and the Cavs tweeted their well wishes to Ellie Day after the game:
Ellie Day I hope you're doing okay! My apologies! Hope u guys come back to another game soon. Love LJ!

— LeBron James (@KingJames) December 18, 2015
From all of us here @TheQArena, we hope you feel better quick & are back for a game soon @ellielaneday! ??

— Cleveland Cavaliers (@cavs) December 18, 2015