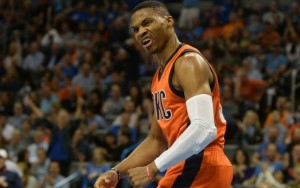 So far, so good for the Oklahoma City Thunder, who have won the first three games this 2015-16 NBA season. Much of their success has been thanks to the stellar performances of their superstar duo in Kevin Durant and Russell Westbrook.
Speaking of Westbrook, he's been on a tear in the past three games, averaging a team-high 40.5 points, 6.5 rebounds and 9.0 assists. He's certainly picked up where he left off last season and continues to lead the way—with Durant—for OKC.
But of course, along with his series of scoring outbursts, Westbrook never falls short in showing off his athleticism through rim-rattling dunks. He did exactly just that last night against the Denver Nuggets.
Please enable Javascript to watch this video
It's so good to have the NBA back.