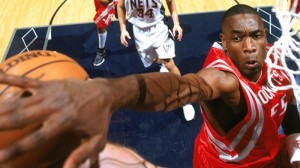 This Friday the Naismith Hall of Fame once again will open their doors to induct another quality class featuring elite shot blocker Dikembe Mutombo, longtime NCAA and NBA coach John Calipari, 7 Time NBA All Star Jo Jo White and WNBA superstar Lisa Leslie.
Undoubtedly the funniest moment of the night will probably come when 8 Time NBA All Star Dikembe Mutombo takes the podium, as in addition to being one of the all time "Good guys" in Association history, his one-liners, "Cookie Monster voice", and infamous "Finger Wag" after a momentous rejection have provided tons of comic relief over the course of his legendary career.
Despite winning the NBA Defensive Player of the Year 4 times, many feel that the 7'2 native of the Congo was overlooked during his career as he put up monster block and rebounding numbers during the 90's and 2000's, two decades dominated by all time Association big men like David Robinson, Akeem Olajuwon, Patrick Ewing, and Shaquille O'Neal.
Many pointed to his rather mediocre offensive game as he averaged just 9.8 ppg for his career, but he led the NBA in rebounding twice snagging more than 12,000 boards, and ranks 2nd all time in career blocks behind only Akeem Olajuwon.
Of course, "Mt Mutombo" will always be known for his iconic celebration when his Denver Nuggets became the first #8 seed to beat a #1 seed in the 1994 NBA Playoffs, setting a PLayoff record that still stands today, swatting 31 shots in a 5 game Playoff series.
He also was undervalued as a winner, as he helped numerous teams make the postseason 13 times in his career, perhaps most memorably helping the Allen Iverson led 2001 Philadelphia 76ers all the way to the NBA Finals, but lost in an iconic battle against the much larger Shaquille O'Neal as the LA lakers finished off a 3-Peat.
In honor of Dike's impending Hall of Fame induction let's check out Dikembe Mutombo's Top 10 Career Blocks……
Allen Moll has been a lifelong NBA and NCAA College Basketball fan who watches and studies games religiously, and coaches youth basketball in his native Lehigh Valley region of Pennsylvania. Allen has also provided content to Bleacherreport.com, Upperdeckblog.com, Cleveland.com, CSN Philly.com, Buckets Magazine, Balltribe.com, in addition to being a tenured NBA and NCAA columnist for TheHoopDoctors.com.