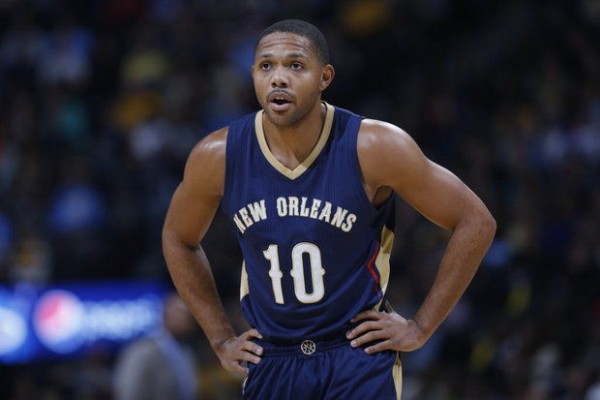 Eric Gordon's feelings about the New Orleans Pelicans have changed.
It was the summer of 2012, and Gordon, after spending a year in New Orleans following the Chris Paul trade, signed a max offer sheet with the Phoenix Suns in restricted free agency. Knowing the Pelicans (then the Hornets), could match that contract, he publicly pleaded his case. He didn't beg New Orleans to back off; he subtly demanded it.
As he said at the time, per ESPN.com's Chris Broussard:
"After visiting the Suns, the impression the organization made on me was incredible," Gordon said in a statement. "Mr. (Robert) Sarver, Lon Babby, Lance Blanks, the Front Office Staff and Coach (Alvin) Gentry run a first-class organization, and I strongly feel they are the right franchise for me. Phoenix is just where my heart is now."
The Pelicans, of course, disregarded his feelings and matched Phoenix's offer anyway. And thus continued a turbulent marriage between player and team, one that has survived injuries and general underachieving, and one that, last season, culminated in the franchise's first playoff berth since 2011.
Anthony Davis has more to do with the Pelicans' revival than Gordon. The latter has missed nearly 44 percent of all possible regular-season contests since arriving in New Orleans, and he's failed to post an above-average player efficiency in either of the last two campaigns.
Still, Gordon, a free agent after this upcoming season, can tell the Pelicans are heading somewhere special with Davis, and he wants to be part of it.
From SB Nation's Nick Weldon (h/t ProBasketballTalk):
What's inarguable: Gordon feels healthy and happy—at the same time—for the first time in years. After once nearly putting New Orleans in the rearview, the 2016 free-agent-to-be can't see leaving.

"I like the guys on this team and I think we can do some good things in the future," he says. "I'm like, why not?"
Gordon's future in New Orleans depends on how much he's commanding in free agency. The salary cap is set to explode, but his role, as well as his production, has diminished. So while a 26-year-old player like himself should be in line for a raise from the $15.5 million he'll rake in next season, Gordon will need to take a marked pay cut to remain in New Orleans. The risk there is that another team, desperate after striking out on its top targets, could bet on Gordon reinventing himself and throw him a deal the Pelicans aren't prepared to match.
New Orleans also has the option of trying to become major free-agency player. The team is about one Jrue Holiday, Tyreke Evans or Omer Asik salary dump away from sniffing max room, and with Davis in tow, anything is possible—even getting in the room with free-agent-to-be Kevin Durant.
If money and Gordon's health allow, though, he poses a nice fit in New Orleans. His defense can be iffy, but he's not strictly the ball-dominating Gordon who arrived in New Orleans. He can play off Davis, Holiday and Evans. More than 36 percent of his shots came as spot-up threes last season, of which he drilled a blistering 48.2 percent, according to NBA SportVU data. That's insane, and it makes him a valuable complementary commodity moving forward—provided his price tag is in line with New Orleans' grand ambitions during the exceedingly promising Anthony Davis era.