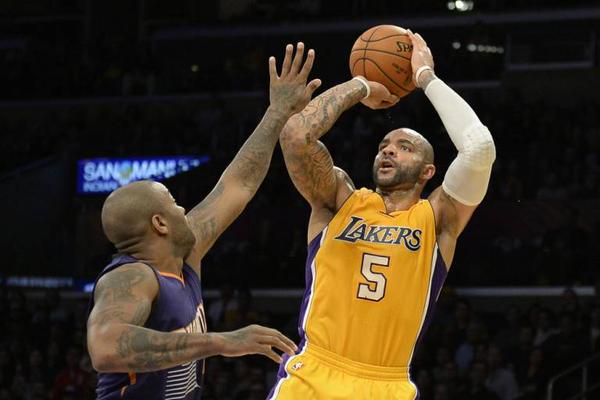 Carlos Boozer is still looking for a new home, and he might not find one anytime soon.
While most of his peers have already signed brand new pacts, many of them expected, some of them a surprise, the 33-year-old Boozer is still a free agent. And, to some extent, that's weird. He's at least two years removed from star-level production, but he averaged 11.8 points and 6.8 rebounds with the Los Angeles Lakers last season, and he's proved supremely durable over the last four years.
So what gives?
Boozer's defense.
From Sheridan Hoops' Michael Scotto:
In a statistically down season, Boozer averaged 11.8 points and 6.8 rebounds per game and shot 49.9 percent from the floor in 23.8 minutes per game for the Los Angeles Lakers, who claimed him off waivers last summer.

Yet, shockingly, he's still unsigned in late August and is considering overseas interest from China for the first half of the NBA season.

So why hasn't Boozer signed yet?

"What Boozer scores on the offensive end, he quickly gives back on defense," one NBA general manager told SheridanHoops.
Fair point. Boozer doesn't block shots, isn't a particularly good one-on-one defender and is apt to ball-gazing, often losing sight of his assignment—which is a problem, because he also isn't quick enough to recover in those situations.
In his four previous seasons, before joining the Lakers, his flaws were masked, or at least tolerable, within the Chicago Bulls' elite defensive system. But he's a straight liability outside an elite defensive system, as we saw while he was with the Lakers last year, when they, a bottom-two defensive unit as it was, were even worse with him on the floor, per Basketball-Reference.
It's reasonable, then, to assume that's why Boozer is still looking for a new deal. He's often compared to Amar'e Stoudemire, in terms of his offensive upside clashing with his defensive downside, but Stoudemire has at least shown he can block the occasional shot. Despite all his injuries, STAT is also still quicker and more explosive. It's of no surprise that he already has a contract.
Still, you have to imagine some team will take a chance on Boozer as a reserve big, even if it happens midseason. After all, he can still score and rebound. And, in the right setting, that can be enough.