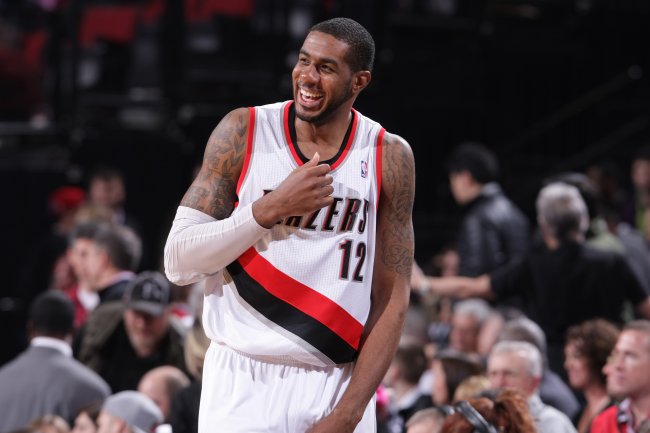 The Portland Trail Blazers' offseason did not go as planned, and General Manager Neil Olshey knows it.
Last summer, it was expected that they would retain LaMarcus Aldridge, re-sign Wesley Matthews, extend Damian Lillard and probably keep Robin Lopez, and then run it back with the same core for a few years until their title window officially closed.
Well, that window swiftly shut over the offseason.
Extending Lillard is the extent of the Blazers meeting offseason expectations. Aldridge signed with the San Antonio Spurs. Portland didn't even offer Matthews a contract. Same probably goes for Lopez, who ended up with the New York Knicks.
Oh, and the Blazers shipped Nicolas Batum to the Charlotte Hornets before any of the aforesaid things happened, implying they had the intel to predict their own demise.
Olshey, the architect of this wild offseason, which has culminated in the arrivals of Ed Davis, Al-Farouq Aminu, Mason Plumlee, Noah Vonleh, Mo Harkless and Gerald Henderson, and which has also included a max offer sheet for Enes Kanter that was matched by the Oklahoma City Thunder, provided some long-awaited insight into the Blazers' thinking while speaking with NBA.com's Scott Howard-Cooper:
I think initially people were kind of caught off guard," Olshey said of the summer developments. "I think people just assumed we'd be in a position to bring LaMarcus back. It's my job to kind of look beyond that and do what's best for the long-term health of the franchise. Our goal was to bring LaMarcus back. We were in the mix. He chose to take his career in another direction. But what we weren't going to do was compound a negative situation and make it worse by signing long-term contracts and taking away flexibility for a team that, quite honestly, wasn't going to be good enough. You have to be honest with yourself when you put a team together and you have to understand that was a group that got beat 4-1 in the first round of the playoffs with LaMarcus Aldridge, so it's not reasonable to assume that that group as constructed, with no cap flexibility to bring in other players was going to be capable of competing at a high enough level to justify giving up a future that can be a lot brighter as long as people understand it's not going to happen overnight.
His comments encapsulate the Blazers' summer to a T.
It was both unexpected and expected, inexplicable and easy to justify. Aldridge looked like he had one foot out the door after the Blazers were bounced from the first round of the playoffs, and Matthews' Achilles injury threw their long-term plans for an unforeseen whirl. Batum's down season, coupled with his impending trip into free agency next summer, aided in their need to make a bunch of tough decisions this summer as well.
So now the Blazers are rebuilding. And while they maintain they were in the running for Aldridge, their actions prior to his decision infer otherwise.
They don't go out and get Plumlee, Vonhleh and Davis while keeping Meyers Leonard and Chris Kaman all before a resolution to the Aldridge situation was reached if they were truly in his mix. They are very much a team that sensed the end of their nucleus was near and tried to get a jump on the reboot process.
Still, other than that, Olshey's words ring true. He admits the Blazers, as previously constructed, weren't good enough. And they weren't. And they still aren't.
The difference now is that they're facing unknowns, most of which could go either direction in the future, good or bad, as opposed to before, when they knew their core, talented and expensive, could only feign contention in a brutally built Western Conference.