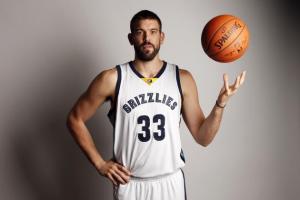 Although no final decision has been made, the Memphis Grizzlies and their fans deserve to a little sigh of relief regarding the future of their All-Star Center Marc Gasol.
Ever since Memphis was eliminated from the playoffs courtesy of the Warriors, rumors have been swirling that their beloved Spaniard may be ready to part ways with the franchise. This summer Gasol wil be thought of as one of the top free agents on the market and his talent could quickly turn around the fortunes of many bottom feeding franchises and/or get a top tier team over the hump.
Attempts to steal Gasol away from the Grizzlies may now be futile according to Adrian Wojnarowski of Yahoo!Sports:
Gasol is expected to stay with the Grizzlies, but no final decision has been made, league sources told Yahoo Sports.
Not surprising.
Not only because Memphis is the only team that has the ability to provide him with a fifth year on a max contract, but also because it's safe to say that Gasol wants to stay loyal to the Grizzlies.
The team willingly took him in as part of the Pau Gasol trade with the Los Angeles Lakers. From that moment on, he was given playing time and the opportunity he needed to blossom to the player that he is today.
He has become one of the best centers in the league and Memphis has been a huge part of that achievement. No other team has any play in it.
Through seven seasons, Gasol has averaged 14.1 points, 7.9 rebounds and 3.0 assists, all of which wearing a Grizzlies uniform.