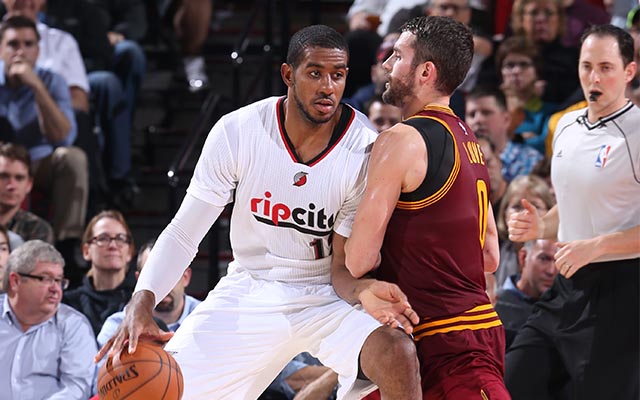 Daryl Morey's Houston Rockets are at it again.
Whiffing on Chris Bosh and Carmelo Anthony hasn't quelled their appetite for superstars. And, frankly, why would it? They traded for James Harden and signed Dwight Howard in consecutive summers. Two out of three isn't bad.
Three out of four is better, though.
According to ESPN.com's Marc Stein, the Rockets are trying to wedge their way into the Kevin Love and LaMarcus Aldridge free-agent conversations:
Hearing ever-aggressive Rockets are plotting ways to try to crash this summer's free-agent chases for both Kevin Love and LaMarcus Aldridge

— Marc Stein (@ESPNSteinLine) June 25, 2015
Don't go celebrating just yet.
As Stein notes, there are some financial obstacles for the Rockets to clear first before any of this becomes even slightly realistic:
Cap space is not Houston's friend at the moment, but word is they will try to get in the mix for both Love and Aldridge as Rockets often do

— Marc Stein (@ESPNSteinLine) June 25, 2015
To that end also hearing that the Rockets are likely to try to trade Terrence Jones as part of today's draft proceedings

— Marc Stein (@ESPNSteinLine) June 25, 2015
Trading Terrence Jones isn't going to get the Rockets enough scratch by any means. But it's a start.
If you factor in all their options and restricted free agent qualifying offers, the Rockets have $64.5 million committed to their books for next season. The salary cap is set for $67.1 million, and it'll take around $20 million(ish) to sign Aldridge or Love. So, the Rockets' need to essentially whittle their commitments down to $47 million to be in play for one of those max-level guys.
Cue the sighs.
Dwight Howard and James Harden will combine to make $38.2 million next year. For the Rockets to even flirt with offering a max deal they would have to get rid of almost everybody. Corey Brewer, Donatas Motiejunas, Kostas Papanikolaou, their No. 18 pick and Jones will all certainly have to go, and retaining Trevor Ariza would be a stretch.
Or, you know, straight up impossible.
Add Ariza's $8.2 million salary to the fold, and the Rockets are at $46.4 million in commitments. Even if they dump all of the aforementioned talent without taking any salary back in return, even if they renounce the rights to restricted free agent Patrick Beverley, they wouldn't be able to afford Aldridge or Love. Minimum cap holds would bring them well past that $47 million threshold, limiting the amount they can offer either player.
They can try and sell both on the favorable income tax, or the prospect of signing a two-year deal with an opt-out clause for 2016, when the salary cap explodes. But that's a longer than long shot.
The Rockets' best bet would be to also dump Ariza in addition to everyone else. They can keep Beverley, since his cap hold is only $2.7 million until he signs a new deal and the Rockets can go over the cap to hammer out that new deal. They could also hope that Smith returns on a beggar's dime, since the Detroit Pistons are still technically paying him and the Rockets don't own his Bird rights.
The question, then, is this: Assuming Aldridge and Love are legit possibilities, is it worth dumping Ariza and nearly everyone else to sign one?