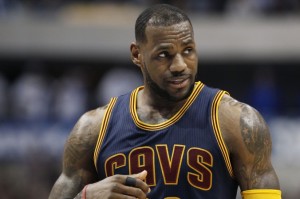 Throughout most of the 2014-15 season, nothing much changed in LeBron James' game, he is still a beast and nightmare match-up for league defenders. In terms of appearance however, there was a slight change, his signature headband which he stopped wearing in games.
It was on March 7 this year that James ditched the headband during a home game versus Phoenix and never wore it again. More importantly, he never gave an explanation for this decision, leaving many fans wondering why.
Well now, the answer to this decision has finally been revealed, as LeBron explains that he ditched wearing his headband as a symbol of togetherness with his teammates, according to Chris Haynes of Cleveland.com:
"I did it because I just wanted to look like my teammates," James said. "Just wanted to be one. Nothing more than that."
This perfectly makes sense, as the Cleveland's mantra for the playoffs is being "All In"—meaning that everyone in the franchise (not just the players) strive to be along the same page for the goal of winning its first ever NBA championship.
Unfortunately for the Cavs, the road just got rougher heading into second-round match-up against Derrick Rose and the Bulls. Adding further damage to the Cavaliers hopes was Kevin Love's season-ending injury, and J.R Smith's two-game suspension, which makes beating the Bulls an even more difficult feat.
For the first two games, Cleveland's going to need some boost from not just LeBron and Kyrie Irving but their reserve players as well, who need to step up and provide a strong enough spark to avoid losing a game at home. On the other side, the Bulls just came off a dominant 54-point win over the Bucks to enter the second round, and expect them to use that as their momentum for game one at Cleveland.
The Cavaliers are going to need everybody "All In", especially for their first two home games without the athletic and sharp shooting JR Smith.