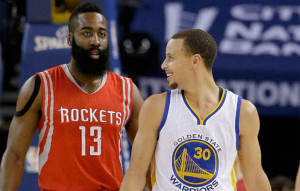 The MVP and his runner-up gave us one hell of a showdown on Tuesday night's game one.
James Harden did everything he could to steal a road win for the Rockets, however, in the end, the Warriors and the league's most valuable player Stephen Curry proved to be just too much of a challenge to overcome.
Despite having a strong start during the first period of the game, the Rockets couldn't sustain the lead and stop the Warriors who quickly rallied themselves back into the game and even managed to have the lead by halftime. From this point on, they kept rolling and held off the Rockets to give themselves a 1-0 series lead with a game one victory (110-106).
This game wouldn't have been near as entertaining to watch without each team's main stars: Curry and Harden, who mesmerized the entire basketball world with a classic duel trading big shot for big shot down the stretch.
Harden finished with almost another triple-double performance with 28 points, 11 rebounds, and 9 assists, while Curry dropped 34 points, 6 rebounds, and 5 assists.
Please enable Javascript to watch this video