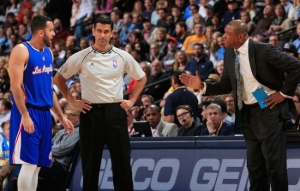 It was no single decision during the series, but it was a decision Doc Rivers made 5 months ago that probably cost the Clippers the Western Conference Finals.
Sunday May 17th, the Clippers lost a second-round series 4-3 to the Houston Rockets, who were led by James Harden's 31 points and Dwight Howard's 16 points and 15 rebounds.
Rockets v Clippers Game 7:
https://youtube.com/watch?v=Nhs2Ga7FmQI
The series was lost in game 7, but it was really lost in games 5 and 6, when the Clippers blew a 3-1 series lead.
In games 5 and 6, the Clippers were dominated on the boards 118 to 80. And although Chris Paul and Blake Griffin were superb when it mattered, guards Austin Rivers (6.5 pgg) and J.J. Redick (7/25) fell woefully short. Aside from one spectacular game Rivers had, the Clippers would have been better off with the 2-time NBA champion Doc Rivers encouraged brass to buy-out in order to sign Rivers, Jordan Farmar. Now, I know Farmar is a bench scrub, but he wouldn't have been afraid of the bright lights of the playoffs.
The Clippers may look to re-sign Austin Rivers, which may pay off in the long run. Rivers' playoff experiences this season could serve to fuel his competitive fire and make him a better player. Doc Rivers' son Austin scored a playoff-career high 25 points in a game-3 victory (on a scorching 10/13 shooting).
But, when we look at games 5, 6, and 7, what looked worse than Austin Rivers was Clippers starting shooting guard J.J. Redick, who Doc has long supported. Earlier this season Rivers told the Los Angeles Times, "[Redick]'ll keep shooting them…and eventually when they go in, we'll be a better team." Redick went 11 for 37 (29.7%) from the field in the three closeout games, which just didn't get it done.
In many more ways, the Clippers might have never got this far without Doc Rivers, so no we are not singling out Doc Rivers. He's a good guy and a good coach, but the Clippers should upgrade their starting shooting guard and bench point guard positions.