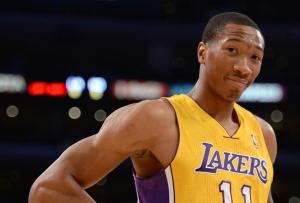 It's safe to say that one of the key reasons for the Clippers' shortcoming this postseason would be its shallow bench. This weakness was exposed during their series against the Spurs, and more recently against the Rockets.
Without question, both the Spurs and Rockets took advantage of this, making life much more difficult for the Clippers. Although they did beat the champs in the opening rounds after seven intense games the deeper bench of the Rockets was overwhelming enough to eliminate the Clippers from the playoffs.
This offseason the Clippers will look to find answers for their bench and one of their possible prospects looks to be Lakers' swingman Wesley Johnson, via ESPN.com's Ramona Shelburne:
The Clippers have interest in Lakers swingman Wes Johnson, according to sources.
Johnson is precisely the role player the Clippers need.
Johnson, 27, is a versatile kind of player who can play both the small and power forward. He can
provide solid defense and has the ability to stretch the floor with his respectable accuracy in knocking down three-pointers, though he still needs to prove his consistency.
Still, Johnson fits the bill for the Clippers needs. He's coming off one of his best seasons in the league so far with a mediocre Lakers team by averaging 12.1 points and 5.1 rebounds in 30 minutes per contest.
There really is no sufficient indication yet that the Lakers remain interested in keeping their swingman. If they decide not to, the Clippers should certainly try to acquire Johnson's services for possibly just the minimum price.