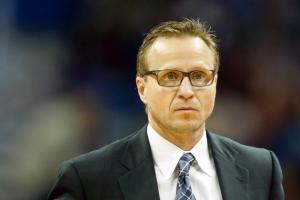 It's strange to take a look at the Western Conference playoff teams and not see the OKC Thunder listed. Injuries to key players proved too much for them to overcome as the narrowly missed the postseason by one game.
Despite not playing with a fully healthy roster this year, Scott Brooks' job security is reportedly in question. Team brass may take a look at removing Brooks this summer in advance of the final year of his contract.
The Oklahoma City Thunder are expected to spend time evaluating the partnership with coach Scott Brooks before committing to bring him back for the final year on his contract, league sources told Yahoo Sports….

Brooks is well liked within the organization and has forged close relationships with management and players in his seven years as head coach. Several league sources close to Brooks have doubts about his job security.
H/T: Yahoo