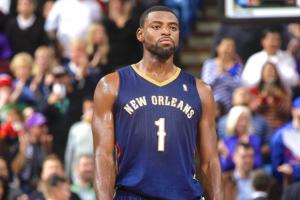 The New Orleans Pelicans' may have lost (99-106) in game one of their first-round matchup with the Warriors. But it was clear that they fought valiantly to the very end, particularly, in the final period where they outscored the Warriors 33-22.
Also, they did that without their starting point guard—Tyreke Evans—who was forced to leave game early, after colliding knees with Andre Iguodala. A few hours later, his MRI revealed a bone bruise on his left knee, and thus leaving fans and his teammates unsure of his status for tonight's game two.
Well, according to Sam Amick of USA TODAY Sports, the Pelican's point guard is reportedly deemed 'questionable' to play tonight, and Evans himself stated that he's going to be a game time decision.
Pelicans' Tyreke Evans is questionable for tomorrow night, "left knee bone bruise" per PR, from MRI. Evans simply says "gametime decision."

— Sam Amick (@sam_amick) April 19, 2015
If Evans is unable to play, the Pelican's offensive flow would be significantly disrupted, and the Warriors would have one less offensive threat to worry about. Furthermore, his ability to penetrate and slice through the opponent's defense has been a huge source of offense for the Pelicans and what makes him so difficult to defend.
If Evans' is unable to play in game two, someone needs to definitely step up in his place, as they can't just solely rely on Anthony Davis to provide the scoring. He can't do it alone, no matter how much of a beast he is.
Back-up point guard Jrue Holiday may be needed heavily to fill the void left by Evans.
But for the Pelicans' sake, let's still hope for the best that Evans does get to play for game two, as his presence is such a great boost to the team's chance of pulling off an improbable upset in Oakland.
Benjamin Felix Santos is an aspiring NBA writer, who bleeds the purple and gold. His love and passion for the game will never die.
Follow @biefsantos