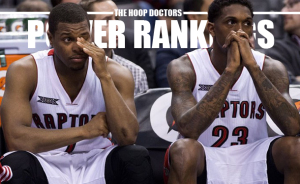 Looking to identity and subsequently acquire what's missing in your life?
You've come to the right place.
NBA power rankings are here.
Before we begin, there is one housekeeping note: What follows is not the direct result of records alone. There will be lottery teams ranked higher than playoff teams and everything in between. Power rankings do take into account season-long performances, but they are also reflexive reactions to the week's events. If a team is playing well, they shoot up the standings. If they are not, they fall. It's that simple.
Now, let's get started before the Indiana Pacers win yet another game.
To the power rankings pontoon boat!
*Welcome back to The Hoop Doctors' PG-13 NBA Power Rankings, where almost anything goes. Language may sometimes not be suitable for those reading at work, in which case I recommend you don't read these aloud or you get a new job. Like most PG-13 movies, we'll permit one F-bomb per post. Those devoid of a sense of humor need not proceed.
***For a week by week list of all our NBA Power Rankings this season, please visit this page.
NBA Power Rankings
| | |
| --- | --- |
| 1 | |

Golden State Warriors

Well, that stay at No. 2 sure lasted a long time—all of one week.

Last Week (2)

| | |
| --- | --- |
| 2 | |

Atlanta Hawks

Have a suspicious feeling the Hawks will wind up with a better record than Warriors.

Last Week (1)

| | |
| --- | --- |
| 3 | |

Cleveland Cavaliers

Imagine what the Cavaliers could accomplish if Kevin Love started playing like Kevin Love.

Last Week (4)

| | |
| --- | --- |
| 4 | |

Houston Rockets

What James Harden is doing remains magical. Can't help but wonder if the Rockets will overthrow the Grizzlies for second place.

Last Week (5)

| | |
| --- | --- |
| 5 | |

Memphis Grizzlies

Speaking of which, the Grizzlies' new starting five is being outscored by more than three points per 100 possessions, according to NBA.com. That, for the record, is not okay.

Last Week (3)

| | |
| --- | --- |
| 6 | |

San Antonio Spurs

This is me, getting overexcited about the Spurs' winning streak.

Last Week (10)

| | |
| --- | --- |
| 7 | |

Oklahoma City Thunder

Russell Westbrook's Kevin Durant-less run has been both incredible and overrated. And that's Russ in a nutshell.

Last Week (6)

| | |
| --- | --- |
| 8 | |

Los Angeles Clippers

Chris Paul is GREAT. It seems like we take that for granted. That said, the Clippers need to work on their defense. They're 6-12 in games during which they fail to score 100 points, and 4-9 against fellow top-seven offenses.

Last Week (8)

| | |
| --- | --- |
| 9 | |

Portland Trail Blazers

Losing Wesley Matthews is tough. Acquiring Arron Afflalo now looks like a stroke of genius.

Last Week (7)

| | |
| --- | --- |
| 10 | |

Dallas Mavericks

What does it say about the Mavericks' title chances that the Blazers are still ahead of them after losing their third-leading scorer? Nothing good.

Last Week (9)

| | |
| --- | --- |
| 11 | |

Indiana Pacers

Indiana still has the league's best record since Feb. 1. This is not a drill. Fifth place in the East remains within reach…and Paul George has yet to even return.

Last Week (16)

| | |
| --- | --- |
| 12 | |

New Orleans Pelicans

As it turns out, the Pelicans' playoff hopes are not shot. They're alive and well, thanks to the team's resident extraterrestrial, Anthony Davis.

Last Week (18)

| | |
| --- | --- |
| 13 | |

Milwaukee Bucks

Khris Middleton has been sneaky awesome this season.

Last Week (13)

| | |
| --- | --- |
| 14 | |

Chicago Bulls

Let's be frank: Injuries are yet again costing the Bulls a real shot at title contention.

Last Week (11)

| | |
| --- | --- |
| 15 | |

Toronto Raptors

Both Toronto's offense and defense are better without Kyle Lowry on the floor. That's totally misleading, but not even slightly all right.

Last Week (12)

| | |
| --- | --- |
| 16 | |

Washington Wizards

John Wall is banged up and deserves better.

Last Week (14)

| | |
| --- | --- |
| 17 | |

Utah Jazz

Utah has the NBA's best defense since plugging Rudy Gobert into the starting lineup, and it has gone 15 straight games without allowing more than 100 points, the longest such streak this season.

Last Week (20)

| | |
| --- | --- |
| 18 | |

Boston Celtics

Isaiah Thomas is everything.

Last Week (19)

| | |
| --- | --- |
| 19 | |

Miami Heat

Hassan Whiteside has some 'splainin' to do. He cannot be getting tossed from games this late into the season.

Last Week (15)

| | |
| --- | --- |
| 20 | |

Charlotte Hornets

Lance Stephenson ranks dead last in win shares among 24-year-olds, per Basketball-Reference, while playing on a potential postseason team. Wow.

Last Week (21)

| | |
| --- | --- |
| 21 | |

Brooklyn Nets

The Nets are a mess.

Last Week (18)

| | |
| --- | --- |
| 22 | |

Phoenix Suns

Eric Bledsoe is a goddamn superstar. Let's talk about this.

Last Week (23)

| | |
| --- | --- |
| 23 | |

Denver Nuggets

What the Nuggets have still isn't pretty, but it's a lot less ugly this side of the Brian Shaw era.

Last Week (25)

| | |
| --- | --- |
| 24 | |

Orlando Magic

If there was a Sophomore of the Year award, well, Victor Oladipo wouldn't win it. But he would be right there, coming in just behind Giannis Antetokounmpo.

Last Week (26)

| | |
| --- | --- |
| 25 | |

Detroit Pistons

It'll be interesting to see how the Pistons handle this offseason—mostly because the Reggie Jackson experiment has not gone well.

Last Week (22)

| | |
| --- | --- |
| 26 | |

Sacramento Kings

Kings + Injuries + Front Office Carousel = Dumpster fire.

Last Week (24)

| | |
| --- | --- |
| 27 | |

Minnesota Timberwolves

Um, the Andrew Wiggins-Ricky Rubio combo is every bit as a deadly as, well, it wasn't supposed to be.

Last Week (27)

| | |
| --- | --- |
| 28 | |

Los Angeles Lakers

There will be no playoffs for the Lakers this year. They were mathematically eliminated from the postseason on Tuesday night. Shocking, I know.

Last Week (28)

| | |
| --- | --- |
| 29 | |

Philadelphia 76ers

Sam Hinkie's tanking superpowers must be on the fritz, because the Sixers lead the NBA in accidental wins.

Last Week (29)

| | |
| --- | --- |
| 30 | |

New York Knicks

Every time I watch the Knicks, my love for basketball dies a little bit—hence why, you know, I've stopped watching the Knicks.

Last Week (29)