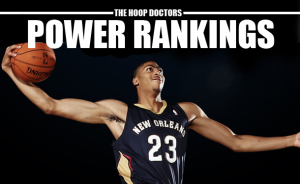 Avoiding NBA power rankings is for chumps, so come on in.
There's plenty to talk about this week. The Warriors and Hawks are still playing in a league of their own; the Grizzlies look like fortuitous demigods; the Hornets and Pistons are making a mockery of the Eastern Conference's race for the final two playoff spots; the Heat, Celtics and Pacers are doing the same, for that matter; the Nets and Nuggets still need to blow shit up; the Pelicans need to make the playoffs this season because if Anthony Davis misses yet another postseason campaign the Earth's geophysical force field will cease to exist (I think); and the Clippers are no longer suffocating.
And, to that end, it's been another crazy week in the Association. Fourteen teams didn't move a lick, up or down, this time around. But with so much going on—injuries, tankers, trade rumors, winning teams winning, losing teams losing—the league hasn't been short on crazy.
Good thing, then, we're hear to make sense of it all.
To the power rankings jet ski!
*Welcome back to The Hoop Doctors' PG-13 NBA Power Rankings, where almost anything goes. Language may sometimes not be suitable for those reading at work, in which case I recommend you don't read these aloud or you get a new job. Like most PG-13 movies, we'll permit one F-bomb per post. Those devoid of a sense of humor need not proceed.
***For a week by week list of all our NBA Power Rankings this season, please visit this page.
NBA Power Rankings
| | |
| --- | --- |
| 1 | |

Golden State Warriors

Is there any conceivable way the Warriors don't at least make it through to the Western Conference Finals?

Last Week (1)

| | |
| --- | --- |
| 2 | |

Atlanta Hawks

Welp, the 19-game winning streak was fun while it lasted. Now let's see how this team responds to some tepid adversity.

Last Week (2)

| | |
| --- | --- |
| 3 | |

Memphis Grizzlies

Watching the Grizzlies is getting crazier by the day. They have the look of a team that will inevitably crumble, yet continue to generate the results of a ubiquitous powerhouse that plans on going nowhere.

Last Week (3)

| | |
| --- | --- |
| 4 | |

Cleveland Cavaliers

In the event Kevin Love remembers how to play basketball, the Cavaliers will become Eastern Conference favorites again.

Last Week (4)

| | |
| --- | --- |
| 5 | |

Los Angeles Clippers

This team is still flawed, desperately needs a wing defender and is about as flexible as steel-wrapped Teflon. But no matter. The Clippers are finally here.

Last Week (5)

| | |
| --- | --- |
| 6 | |

San Antonio Spurs

Good faith-ing on the Spurs still. I have my reasons. Most of them are Kawhi Leonard-incited.

Last Week (7)

| | |
| --- | --- |
| 7 | |

Houston Rockets

Look for the Rockets to drop even lower without Dwight Howard. That, or look for James Harden to take over the damn world.

Last Week (5)

| | |
| --- | --- |
| 8 | |

Dallas Mavericks

Cannot figure the Mavericks out. Acquiring Rajon Rondo fixed their defense, but killed their offense. Now he's out and they lack luster on both ends. Paint me confused.

Last Week (13)

| | |
| --- | --- |
| 9 | |

Portland Trail Blazers

LaMarcus Aldridge is balling with a bad thumb. Yet, even after a narrow escape over the Jazz, the Blazers have some fatal flaws that need tending to—specifically on the wing, where Nicolas Batum, while injured, continues to play like poo.

Last Week (9)

| | |
| --- | --- |
| 10 | |

Toronto Raptors

Paging the Raptors offense. Yeah, hi. I was wondering if you could, in turn, page your defense. Haven't seen it in a while. All freaking season, to be exact.

Last Week (10)

| | |
| --- | --- |
| 11 | |

Washington Wizards

Talked with Drew Gooden this week (seriously). Seems like a good dude. His team, however, doesn't look like a legitimate championship contender, insofar as championship contender doesn't refer to foredoomed second-round exit.

Last Week (8)

| | |
| --- | --- |
| 12 | |

New Orleans Pelicans

There is only one thing on my bucket list at the moment: Seeing Anthony Davis in the playoffs. This. Fucking. Season.

Last Week (11)

| | |
| --- | --- |
| 13 | |

Chicago Bulls

Um, I'm officially hitting the panic button on Chicago's season. Won't you come join me? I have chocolate-chip pancakes.

Last Week (11)

| | |
| --- | --- |
| 14 | |

Phoenix Suns

Phoenix's triple point guard lineups can neither rebound nor defend. But man, can they freaking score.

Last Week (15)

| | |
| --- | --- |
| 15 | |

Oklahoma City Thunder

Missing the playoffs is a very real possibility for the Thunder. If Kevin Durant doesn't get right, and stay right, they're screwed.

Last Week (15)

| | |
| --- | --- |
| 16 | |

Milwaukee Bucks

Not-so-hot take: The Bucks are better than people realize.

Last Week (16)

| | |
| --- | --- |
| 17 | |

Charlotte Hornets

Meet the NBA's best defensive team since the turn of the calendar. If they somehow could trade for Wilson Chandler and Joe Johnson, they would be in immediate business. (SPOILER.)

Last Week (18)

| | |
| --- | --- |
| 18 | |

Detroit Pistons

Trying to figure out a way to get Reggie Jackson from Oklahoma City to Detroit. Such a move just feels right. It is the hot fudge to your ice cream sundae. The red pepper flakes to your crispy cheese pizza. The udder cream to your chafing nipples.

Last Week (22)

| | |
| --- | --- |
| 19 | |

Boston Celtics

After stripping their roster of any established talent, the Celtics are 3.5 games outside the East's playoff picture. Sure.

Last Week (19)

| | |
| --- | --- |
| 20 | |

Brooklyn Nets

YOU GUYS. I fixed the Nets here. (Note that Charlotte would send Brooklyn a 2016 first-rounder.)


Last Week (20)

| | |
| --- | --- |
| 21 | |

Utah Jazz

Don't look now, but the Jazz are super fun. Also, Rudy Gobert is the spawn of God.

Last Week (22)

| | |
| --- | --- |
| 22 | |

Miami Heat

Luol Deng is making me sad. I blame the Bulls' shady medical staff for his years-long downswing.

Last Week (18)

| | |
| --- | --- |
| 23 | |

Indiana Pacers

Paul George should not return from his broken leg this season. I repeat: Paul George should not return from his broken leg this season.

Last Week (23)

| | |
| --- | --- |
| 24 | |

Sacramento Kings

Really want to see the Kings trade for Deron Williams just because.

Last Week (25)

| | |
| --- | --- |
| 25 | |

Orlando Magic

Smell that? It's Jacque Vaughn's seat, and it's on fire.

Last Week (24)

| | |
| --- | --- |
| 26 | |

Denver Nuggets

Am I above moving the Nuggets below the Sixers? For now, yes. Next week, probably not.

Last Week (26)

| | |
| --- | --- |
| 27 | |

Philadelphia 76ers

The 11-36 Sixers have roughly six bajillion more wins than Sam Hinkie wants them to.

Last Week (28)

| | |
| --- | --- |
| 28 | |

New York Knicks

Sure, the Knicks suck. But Phil Jackson is honest about the Knicks sucking. So, you know, there's that.

Last Week (27)

| | |
| --- | --- |
| 29 | |

Los Angeles Lakers

Going to a Laker game these days is like flossing—it sounds better in theory than practice.

Last Week (29)

| | |
| --- | --- |
| 30 | |

Minnesota Timberwolves

Andrew Wiggins for "Future Superhuman, World-Wolfing Mutant" of the Year.

Last Week (30)