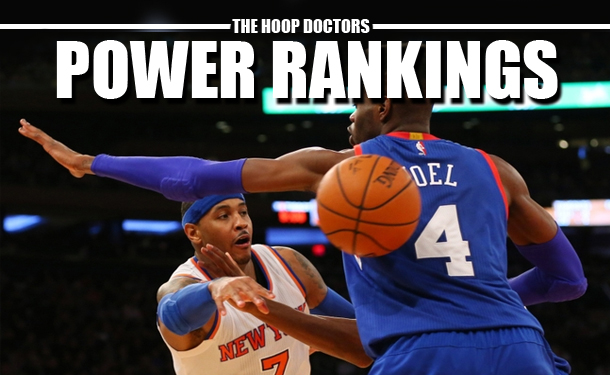 Question of the week: Do any of the NBA's Eastern Conference fringe playoff teams actually want to make the postseason?
Asking for a friend or 50 here.
Seriously, once you leave the East's top-six teams—Hawks(!), Raptors, Wizards, Bulls, Cavaliers and Bucks—it feels like you've entered the "Let's try and suck as much as possible in order to miss the playoffs" race. Hence the theme of this week's NBA rank-a-thon: The Eastern Conference, specifically the bottom two-thirds, sucks.
The Heat are dealing with injuries, but you have to wonder at what point do they trade Luol Deng and ride Hassan Whiteside to retaining their top-10 protected draft pick; the Hornets are treading water, even without Kemba Walker, but they're on the verge of going all in on a final playoff slot and first-round exit; the Nets aren't even a real basketball team anymore, just a loss-loaded, way-too-expensive crapfest that needs to be dismantled; the Pistons look to be done after losing Brandon Jennings, though we cannot say for sure, because Stan Van Gundy is magic; the Pacers get hot and cold and then freezing; and the Celtics, after stripping their team of talent, are somehow in play for the postseason.
Each of those squads are within at least 3.5 games of a playoff spot. I mean, wow.
Oh, and the Western Conference is still doing things.
On that note…
To the power rankings space ship!
*Welcome back to The Hoop Doctors' PG-13 NBA Power Rankings, where almost anything goes. Language may sometimes not be suitable for those reading at work, in which case I recommend you don't read these aloud or you get a new job. Like most PG-13 movies, we'll permit one F-bomb per post. Those devoid of a sense of humor need not proceed.
***For a week by week list of all our NBA Power Rankings this season, please visit this page.
NBA Power Rankings
| | |
| --- | --- |
| 1 | |

Golden State Warriors

Please do not allow the Hawks' developing greatness to take away from the Warriors' established preeminence. Just because we expect them to go apeshit, it doesn't make them going apeshit any less impressive.

Last Week (1)

| | |
| --- | --- |
| 2 | |

Atlanta Hawks

Now, about the Hawks: OH. MY. GOD.

Last Week (2)

| | |
| --- | --- |
| 3 | |

Memphis Grizzlies

Memphis continues to prove me and roughly 8 jillion other people wrong.

Last Week (6)

| | |
| --- | --- |
| 4 | |

Cleveland Cavaliers

This has to be the highest in-season ranking the Cavs have secured all year. To that end, they deserve it. Their offense has been on a TEAR of late.

Last Week (10)

| | |
| --- | --- |
| 5 | |

Houston Rockets

There is no such thing as too much James Harden, apparently.

Last Week (4)

| | |
| --- | --- |
| 6 | |

Los Angeles Clippers

Believe me when I say this doesn't feel right. At the same time, a five-game winning streak cannot be ignored. The Clippers' offense is back.

Last Week (13)

| | |
| --- | --- |
| 7 | |

San Antonio Spurs

THE SPURS ARE (still) COMING.

Last Week (7)

| | |
| --- | --- |
| 8 | |

Washington Wizards

At some point, the Wizards have to start beating up on real teams, not the NBA's basement-squatting dregs.

Last Week (8)

| | |
| --- | --- |
| 9 | |

Portland Trail Blazers

Injuries threaten to ruin Portland's run of dominance. Early returns are not good. Losing to the LeBron-less Cavaliers says it all.

Last Week (3)

| | |
| --- | --- |
| 10 | |

Toronto Raptors

Really, really, really want to see this team trade for an elite perimeter defender. That's the only thing preventing them from being legit title contenders. Truly.

Last Week (12)

| | |
| --- | --- |
| 11 | |

Chicago Bulls

Trying to figure out the Bulls is the real-life equivalent smoking Play-Doh.

Last Week (13)

| | |
| --- | --- |
| 12 | |

Dallas Mavericks

Dallas' record against elite Western Conference foes is concerning. That said, they're one Bismack Biyombo trade away from being more fun than they are now. Fun squared, if you will.

Last Week (5)

| | |
| --- | --- |
| 13 | |

Oklahoma City Thunder

Kevin Durant suddenly seems injury-prone. Watching it all unfold feels like flossing with paper clips.

Last Week (11)

| | |
| --- | --- |
| 14 | |

New Orleans Pelicans

Anthony Davis looks to have injured his groin as I'm writing this. Fuck the world.

Last Week (17)

| | |
| --- | --- |
| 15 | |

Phoenix Suns

Tough situation in Phoenix. Even if the Suns make the playoffs, they only earn the right to be ass-whipped by the Warriors. Still think they should sell off Goran Dragic and plan for next year. Contending for eighth place is just bleh.

Last Week (9)

| | |
| --- | --- |
| 16 | |

Milwaukee Bucks

Sucks that Jabari Parker is done for the season. Really would like to see what this team could be with a featured scorer. Giannis Antetokounmpo just isn't offensively there yet.

Last Week (16)

| | |
| --- | --- |
| 17 | |

Charlotte Hornets

It's going down, I'm yelling KEMBA! Get well soon.

Last Week (18)

| | |
| --- | --- |
| 18 | |

Miami Heat

Ugh, it looks like Dwyane Wade will be done for a while. At least there's Chris Bosh Hassan Whiteside to watch.

Last Week (19)

| | |
| --- | --- |
| 19 | |

Boston Celtics

Um, the Celtics, after selling off their entire goddamn team, are contending for a playoff spot. Sure.

Last Week (24)

| | |
| --- | --- |
| 20 | |

Brooklyn Nets

Still maintain what I said last week, and the week before, and the week before that: TRADE EVERYONE.

Last Week (20)

| | |
| --- | --- |
| 21 | |

Utah Jazz

Have yet to disembark the Dante Exum bandwagon. Still, the kid needs to stop shooting so many threes.

Last Week (22)

| | |
| --- | --- |
| 22 | |

Detroit Pistons

Never thought I'd write this, but: Brandon Jennings' absence is proving how much Brandon Jennings' team needs Brandon Jennings.

Last Week (15)

| | |
| --- | --- |
| 23 | |

Indiana Pacers

People are calling Whiteside the next Roy Hibbert, which, in turn, makes me really sad for Whiteside.

Last Week (26)

| | |
| --- | --- |
| 24 | |

Orlando Magic

In the Eastern Conference's shit show, the Magic, on paper, look like a playoff time. Sadly, on the court, they look raw and offensively inept.

Last Week (23)

| | |
| --- | --- |
| 25 | |

Sacramento Kings

Shame, really. DeMarcus Cousins has been sensational. The Kings, though, have been shittastic.

Last Week (21)

| | |
| --- | --- |
| 26 | |

Denver Nuggets

Denver is the Brooklyn of the Western Conference—minus the whole bad contracts and not having draft picks thing. Really, I'm just saying they need to blow it up.

Last Week (22)

| | |
| --- | --- |
| 27 | |

New York Knicks

Four wins in five games? Tank properly, New York!

Last Week (29)

| | |
| --- | --- |
| 28 | |

Philadelphia 76ers

Philly is becoming increasingly fun to watch. Armed with two more first-rounders, a healthy Joel Embiid and perhaps Dario Saric next season, this team could be halfway not sucky.

Last Week (30)

| | |
| --- | --- |
| 29 | |

Los Angeles Lakers

Prediction: The Laker swill keep their top-five protected draft pick.

Last Week (27)

| | |
| --- | --- |
| 30 | |

Minnesota Timberwolves

Thaddeus Young and Kevin Martin for Lance Stephenson and a first-rounder. Who says no: Hornets or Timberwolves?

Last Week (28)