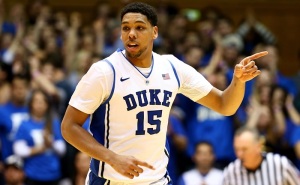 With the 2014-15 NBA and NCAA seasons nearing the halfway point, and the 2015 NBA Draft now less than 6 months away, it's time once again to take a look at the top 1st Round prospects for the upcoming Draft.
It's becoming pretty clear that the top overall prize in the 2015 Draft is Duke big man Jahlil Okafor.  He continues to impress, living up to the hype of being the most fundamental center to enter the college ranks since current NBA legend Tim Duncan.
Following Okafor, some are still up in the air, as to which players will fill out the the remainder of the Lottery as prospects like Emmanuel Mudiay, Karl Anthony-Towns, Myles Turner, and Stanley Johnson continue to impress NBA scouts.
Teams like Philadelphia, New York, Minnesota, Detroit, and Los Angeles continue to be the frontrunners for the #1 pick, so let the tanking continue.
As such, these Mock Draft rankings are based on potential with this year's Draft order based on current team records from the regular season and outstanding trades, without taking into consideration for team needs as of yet.
These are only my choices and not the consensus picks of all of The Hoop Doctors writers, with that said here is my 2015 Mock Draft:Version 3.0…
Draft Order
College Team
Player
Position
Physical

1.

 

PHI

 Duke
 Jahlil Okafor
C
6'11   270lbs   Freshman
Duke's monstrous big man continues to impress, possessing the strength of an ox, as well as a soft touch, fluid footwork, and low post arsenal to go with it.  His averages of 19 points and 9 boards don't tell the whole story as the Chicago native is capable of so much more, like his amazing 25 point, 20 rebound game against Elon earlier in  the season.

2.

 NY

Kentucky
 Karl Anthony-Towns
 PF/C
7'0   250lbs   Freshman
While it's hard to get a full gauge of the talent on Kentucky's roster in Coach Cal's "platoon system", it's clear that Towns has the most upside on the nation's top ranked team.  Possessing the size of a center, the 7 foot freshman oozes offensive potential as well as being one of the top rebounders in the nation on PER 40 minute production.  His post moves and defensive abilities are still a work in progress, but he already has a ton of International experience, and could be a franchise player at the next level someday.

3.

 

MIN

China
 Emmanuel Mudiay
 PG
6'5   190lbs  International
Prior to being shut down for the season because of injury over in China, the still only 18 year old PG prospect put up impressive numbers in the CBL.  Some will always question the sometimes hollow stats against subpar competition overseas, but Mudiay has all of the physical tools to develop into a John Wall type of floor general, but may no longer be in consideration for the top overall pick as in earlier Mocks.

4.

 

DET

Arizona
 Stanley Johnson
SF
 6'7   245lbs   Freshman

Easily one of the more impressive physical perimeter prospects for the 2015 Draft, Johnson has lived up to the hype of once being a Top 5 HS prospect.  Many had compared him to former NBA great Metta World Peace for his lock-down defense, but Johnson has been much more impressive than anticipated on offense, out muscling the opposition on the way to the basket.  In a draft lacking in perimeter prospects, Johnson could be the first taken.

5.

 

LAL

Texas
Myles Turner
 C
 6'11   240lbs   Freshman

Although a tad more raw than Okafor and Towns, Turner has every bit of an upside.  Because of the ability to both play in the post and shoot from the perimeter, the athletic freshman has been compared to NBA stud LaMarcus Aldridge for his offensive potential.  Despite playing in limited minutes early in the season Turner has had some impressive games of 26 and 9 and 25 and 10.

6.

 

CHA

Kentucky
 Willie Cauley-Stein
C
 7'0   240lbs   Junior
The super athletic 7 footer has arguably been the best defender in college hoops this season, capable of defending any position 1 through 5.  Some have touted him as the 2nd coming of Tyson Chandler, but he hasn't shown it until this season.  He's the anchor on the nation's top ranked team and has shown glimpses of some sort of an offensive game in his junior season.  Not necessarily considered a franchise player at the next level, Cauley-Stein could be one of the first upperclassmen selected.

7.

 UTAH

Latvia
 Kristaps Porzingis
PF/C
7'1   220lbs   International
Despite having some immense size for center, Porzingis prefers to play the SF position, since he's still rather thin and has the offensive skill set for the position.  He has very little post game but an excellent shooting stroke and above average handles for a 7 footer.  Lack of strength could be a concern, but as a still developing 19 year old with an impressive offensive skill set, is unlimited potential should make him a lock for the Lottery.

8.

 

IND

Arizona

 Rondae Hollis-Jefferson
 SF
6'7   220lbs   Sophomore
Despite his team consistently being ranked in the Top 10 and an amazing athletic skill set, Hollis-Jefferson's stock has been slipping of late, following averaging just 7 points and shooting under 40% from the field over the past 4 games.  Hollis-Jefferson is one of the most athletic players in the nation and should regain his game come conference play and NCAA Tourney time, having the potential to develop into a Kawhi Leonard type player at the next level.

9.

 

BOS

UCLA
 Kevon Looney
 PF
 6'9   225lbs   Freshman

One of the NCAA's top rebounders this season, Looney is an uber athletic freshman, with through the roof potential at the next level.  He's still rather raw but has been a consistent double-double machine all season, as some consider him a Top 5 talent come next June.

10.

 

ORL

Louisville
 Montrezl Harrell
 PF
 6'8   240lbs   Junior

For 3 seasons, the physical, emotional, and athletic forward has been one of the leaders of the Cardinals.  He has emerged as one of the nation's top big men this season, averaging 16 points and 9 boards on the season.  His energetic play reminds many of Denver's Kenneth Faried.

11.

DEN

Syracuse
 Chris McCullough
 PF
6'10   220lbs   Freshman
Another athletic, long, and lean forward, McCollugh has been one of Coach Boeheim's top players at Syracuse all season.  His potential is immense but as struggled to remain consistent.  After a blazing start to the season, McCullough has struggled through December, scoring in double figures in just 2 of 8 games.  Some see him developing into a prototype NBA PF with some seasoning.

12.

 

CHI

Duke
Justice Winslow

 SG/SF
6'6   230lbs   Freshman
After a blazing start to the season, the athletic wing has cooled a bit, but remains a top NBA prospect for the 2015 NBA Draft.  Possessing amazing athleticism, energy, and a lock-down defensive prowess, Winslow could be in high demand come June as an Andre Iguodala type glue player.

13.

 

OKC

Michigan
 Caris LeVert
SG/SF
6'7   200lbs   Junior
Coming into the season, most were high on the elite level SG, some even touting him as a Top 5 selection.  But as the Wolverines have struggled, so has LeVert, scoring in double figures in only 1 of his last 5 games.  Nonetheless, in a draft devoid of many elite wing prospects, he should still go in the top half of the 1st Round come June.

14.

 

HOU

Croatia
Mario Hezonja

 SG/SF
 6'8   215lbs   International
One of the fastest risers in the 2015 Draft Class, the International star is an exceptional athlete, possessing excellent size to play either SG or SF in the NBA.  He has been tearing up the competition in Europe over the past month and considering he will be 20 year old by draft time and an NBA friendly expiring contract overseas, he has Lottery potential to be an immediate impact player next season.

15.

 

PHI

Ohio St

D'Angelo Russell

PG/ SG
 6'5   180lbs   Freshman
One of the top freshman players in the nation, Russell scores the ball with ease despite having just average athleticism.  He has outstanding ball-handling skills making him a hot commodity as a combo guard in the mold of Brandon Roy at the next level.  Still rather thin, Russell struggles on defense and gets overpowered by bigger 2 guards, but can score the rock like few in the 2015 Draft Class.

16.

ATL


Texas
Isaiah Taylor

PG
6'2   170lbs   Sophomore
One of the fastest players end-to-end in the college ranks, Taylor is coming off of an injury that forced him to miss a majority of his sophomore season.  But prior to that, NBA scouts were drooling at his immense potential as a legit NBA lead guard.  In addition to an Allen Iverson-like burst, Taylor's offensive game has begun to blossom and already has that ever important midrange floater needed to excel on the next level.  Many see him in a similar mold of Charlotte's Kemba Walker, but think quicker.  Yup.

17.

 

MIL

Kentucky
Trey Lyles

 PF
6'10   250lbs   Freshman
One of the fastest risers in Mocks over the holidays has been Lyles.  He has been impressive despite not putting up eye-popping stats in Kentucky's "platoon system."  A sweet shooting big in the mold of a young Carlos Boozer is the best comparison so far, although he could develop into an even better player, considering he will be only 19 years old by draft time.

18.

 

PHO

Kansas

 Cliff Alexander
 PF/C
 6'8   250lbs   Freshman
After entering the college ranks as a potential Lottery selection, Alexander has been a tad disappointing.  His obvious strengths include physicality and a knack for rebounding the basketball, but he has shown very little of an offensive game, which when combined with his lack of overwhelming height, could be a real problem in the NBA.  An extra season at Kansas would definitely help, as right now he fits in the mold of a Thomas Robinson tweener type forward.

19.

SA


Wisconsin
Sam Dekker

 SF/PF
 6'9   230lbs   Junior
Dekker is a smooth and well rounded swingman in the mold of Utah's Gordon Hayward, and is a legit 1st Round prospect in 2015.  Some feel he lacks the killer instinct, despite having one of the best all around skill sets in the college ranks.  He will get plenty of exposure as the Badgers are a legit Final Four threat, so look for him to rise or fall depending on how far Wisconsin advances.

20.

 

CHI

Arkansas
 Bobby Portis
PF
 6'10   240lbs   Sophomore
Having prototypical size to play PF at the next level, Portis has been a beast in the non-conference slate.  He has the skills to play in the post and knock down a 15 foot jumper, making him ideal in the pick-and-roll NBA game.  Some see him as a Taj Gibson type player at the next level.

21.

 

BOS

Notre Dame

 Jerian Grant
PG
 6'5   201lbs   Senior
Despite being a bit older than most 1st Round prospects, Grant has excellent size and ball-handling abilities, and should be one of the first seniors taken next June.  The son of former NBA player Harvey Grant, and nephew of Horace, Jerian has great genes to be a stellar NBA player, albeit potentially as a player in the mold of Mario Chalmers.

22.

DAL

Virginia
Justin Anderson

SG/SF
6'6   225lbs   Junior
Another of the fastest risers in the 2015 Class, Anderson is the heart and soul of the upstart Cavaliers, as they are a Top 5 ranked team through January.  In his 3rd season, he has gotten into better shape and emerged as an elite 3 point threat and solid defender.  Look for his stock to rise if Virginia continues to impress in the ACC.

23.

 

LAL

Louisville
 Terry Rozier
PG
 6'2   190lbs   Sophomore
Standing just over 6 feet but built like an bull, Rozier reminds many of Phoenix's Eric Bledsoe.  In his 2nd year at Louisville, he has emerged as a high volume scorer, with elite 3 point prowess, and above average athleticism.  An explosive PG, Rozier is capable of playing the 2 because of his innate offensive capabilities.

24.

 

CLE

North Carolina

 Marcus Paige
PG/SG
 6'1   175lbs   Junior
Despite coming out of the gates a bit slow, Paige is a legit perimeter shooting threat at the next level.  As a score first floor general, some concerns have arisen about his size to get off his shot at the next level.  He has come on lately, averaging 16+ ppg through January, but must get back to his more efficient ways from last season, if he wants to remain a 1st Round selection.

25.

 

WAS

UNLV
 Christian Wood

PF
6'11   225lbs   Sophomore
One of the surprises of the season to this point, Wood has at times been overshadowed by freshman phenom teammate Rashad Vaughn, but Wood has been impressive, putting up 16 pts, 10 boards, and 3 blocks per night.  Following a stellar recent showing against Top 5 ranked Arizona, Woods appears to be one of the fastest risers heading into 2015.

26.

 

BK

Iowa St
Georges Niang

PF/C
6'8   230lbs   Junior
One of the most craftiest, skilled, and passing post players in the nation, Niang has been a POY candidate for the Cyclones.  In his junior season, he's shifted towards being a more perimeter or high post style of player, capable of scoring from a variety of ways through adept footwork, an advanced offensive arsenal, in the mold of Indiana's Luis Scola.

27.

 

CLE

Utah

 Delon Wright
 PG/SG
6'5   190lbs   Senior

One of the top senior point men in the nation, Wright is the brother of NBA talent Dorrell Wright.  After a slow start to the season, he has come on strong helping his team to big wins over Wichita State, BYU, and UNLV.  Thanks to outstanding size and being an elite primary ball-handler, Wright should be one of the first seniors taken in 2015.

28.

 

TOR

West Virginia
Juwan Staten

 PG
 6'0   190lbs   Senior
One of the most heralded floor generals in the nation, Staten's numbers are down from last season but that's because the team around him is much improved.  Although slight in stature, Staten is a crafty, physical PG that fills up the stat sheet. probably best suited as a back-up point in the NBA.

29.

 

POR

Wisconsin
Frank Kaminsky

PF/C
 7'0   240lbs   Senior
One of the best scoring big men in the nation, "Frnak the Tank" emerged last season as a POY candidate for the Badgers.  He reminds many of New Orleans' Ryan Anderson for his incredible offensive skill set on the perimeter.  Lack of athleticism and the fact that he will be 23 by the time June rolls around will keep him as a late 1st Round selection.

30.

 

GS

UConn
 Ryan Boatright
 PG
5'11   175lbs   Senior
After playing in the shadows of both Kemba Walker and Shabazz Napier at Uconn, Boatright has emerged as a PY candidate and one of the nation's top seniors.  His quickness and ability to finish are what impress the most as he is one of the hardest to contain offensive players in the nation.  Think of a poor man's Allen Iverson, that has potential as a back-up NBA point in the mold of Chicago's Aaron Brooks.
Allen Moll has been a lifelong NBA and NCAA College Basketball fan who watches and studies games religiously, and coaches youth basketball in his native Lehigh Valley region of Pennsylvania. Allen has also provided content to Bleacherreport.com, Upperdeckblog.com, Cleveland.com, CSN Philly.com, Buckets Magazine, in addition to being a tenured NBA and NCAA columnist for TheHoopDoctors.com.