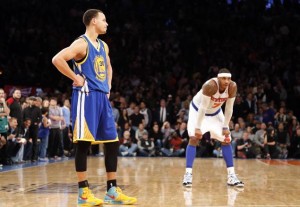 Back in the 2009 NBA draft, the Golden State Warriors drafted sharp-shooting guard Stephen Curry as the seventh overall pick. The next to draft after them were the New York Knicks, who were actually planning to draft Curry as well, but ended up with Jordan Hill as the eight overall pick.
During that night, little did the Warriors know that Curry actually wanted the Knicks to draft him as they were his preferred team because of Mike D'Antoni's run-and-gun offense which he believed would perfectly complement his style of play. Via Harvey Araton of The New York Times..
In a telephone interview, Curry's father, Dell, who played 16 N.B.A. seasons as a sweet-shooting guard, said: "The Warriors had some questionable characters on their team, the Knicks really needed a point guard, and we felt that Stephen would fit perfectly with a coach like Mike D'Antoni, playing that fast, up-and-down style. He loved the idea of playing at Madison Square Garden."
Given the current status of the Knicks and the Warriors, I wouldn't think Curry would consider playing in Madison Square Garden anytime soon, Curry and the Warriors are the team most likely so far this season to dethrone the defending champions–Spurs. And the Knicks are….well….the Knicks. The Warriors have only lost 2 out of their 22 games so far this season, putting them right at the top of the wild western conference.
That being said, Curry would be out of his mind to want to leave the Warriors at this point in his career and the development of the Dubs. Unless the Zen Master pulls off another jedi-mind trick?
Benjamin Felix Santos is currently a senior college student from Manila, PH. An aspiring NBA writer who bleeds the purple and gold. His love and passion for the game will never die.
Follow @biefsantos