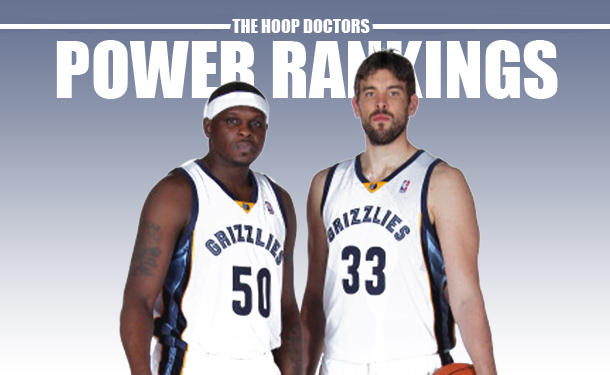 Allow me to tell you a secret. Injuries suck.
The NBA has been a hotbed for injuries and sad storylines early on, and it sucks and blows simultaneously. So, too, does the whole early-season confusion. There is so much inconsistency around the Association this time of year. Good teams aren't good, bad teams aren't bad, the Philadelphia 76ers have yet to lose more games than they've played, the Sacramento Kings are above .500, the Cleveland Cavaliers haven't won the November Finals.
It's madness.
Eventually that trend will flame out. In the meantime, you're cautioned against making snap judgments on injury-ravaged rosters and generally sucky starts. There is a lot of basketball left to play. Teams will inevitably reveal themselves for who they really are.
Until then, we rank. With power. We power rank.
*Welcome back to The Hoop Doctors' PG-13 NBA Power Rankings, where almost anything goes. Language may sometimes not be suitable for those reading at work, in which case I recommend you don't read these aloud or you get a new job. Like most PG-13 movies, we'll permit one F-bomb per post. Those devoid of a sense of humor need not proceed.
***For a week by week list of all our NBA Power Rankings this season, please visit this page.
NBA Power Rankings
| | |
| --- | --- |
| 1 | |

Houston Rockets

Had you told me two months ago that the Rockets would spend at least two weeks atop the power rankings, I may—this is to say, most definitely would—have had you committed.

Last Week (1)

| | |
| --- | --- |
| 2 | |

Memphis Grizzlies

Grizzlies basketball is the ugliest basketball. I love it.

Last Week (3)

| | |
| --- | --- |
| 3 | |

Golden State Warriors

The Warriors are doing that thing where they make us believe. Let's hope they don't proceed to do that other thing where they make us regret it.

Last Week (2)

| | |
| --- | --- |
| 4 | |

San Antonio Spurs

Good faith-ing on the Spurs here. Have to. They ripped apart Golden State. They deserve it.

Last Week (4)

| | |
| --- | --- |
| 5 | |

Miami Heat

LeBron James will lead the Heat to a third title at some—HOLY SHIT, LEBRON ISN'T ON THIS TEAM AND THEY'RE MAKING A TOP-FIVE APPEARANCE?!?!?!?

Last Week (8)

| | |
| --- | --- |
| 6 | |

Chicago Bulls

Derrick Rose cares about life after basketball, specifically with his family? OFF WITH HIS HEAD.

Last Week (7)

| | |
| --- | --- |
| 7 | |

Toronto Raptors

My word this offense is good. Second in efficiency at the moment. If that lasts, well, watch out for the Raptors.

Last Week (11)

| | |
| --- | --- |
| 8 | |

Cleveland Cavaliers

Another good faith pick here, since power rankings have to consider future standings too. The Cavaliers' offense is already really good. Just wait until it's face-smacking, ass-kicking, nuts-nuking great.

Last Week (15)

| | |
| --- | --- |
| 9 | |

Dallas Mavericks

Trouble may be afoot in Dallas. The Mavs offense is fine. Incredible, even. But their defense is baaaaad.

Last Week (5)

| | |
| --- | --- |
| 10 | |

Portland Trail Blazers

Damian Lillard hasn't been setting fire to opponents like usual. Kudos to the Blazers for surviving his slow start…for now.

Last Week (13)

| | |
| --- | --- |
| 11 | |

Washington Wizards

When Bradley Beal returns, oh my god, this team should explode.

Last Week (11)

| | |
| --- | --- |
| 12 | |

Los Angeles Clippers

Why yes, it is time for the Clippers to panic.

Last Week (6)

| | |
| --- | --- |
| 13 | |

Phoenix Suns

Phoenix's defense is performing better than its offense. That's a problem. Part of me blames Goran Dragic. All of me is sad.

Last Week (9)

| | |
| --- | --- |
| 14 | |

New Orleans Pelicans

Anthony Davis continues to leave us in a perpetual state of "Shiiiiiiiiiiiiit. Did that just happen?"

Last Week (16)

| | |
| --- | --- |
| 15 | |

Sacramento Kings

All is right with the world. The Kings aren't dominating. Kendrick Perkins is going to be ecstatic.

Last Week (10)

| | |
| --- | --- |
| 16 | |

Brooklyn Nets

Joe Johnson may hate his teammates, but the Nets are in good shape—provided Deron Williams and Brook Lopez don't injure themselves on a salsa-dancing Saturday.

Last Week (18)

| | |
| --- | --- |
| 17 | |

Boston Celtics

Boston is playing .500 basketball while surviving injuries and the league's toughest schedule. Impressive.

Last Week (21)

| | |
| --- | --- |
| 18 | |

Atlanta Hawks

Thought this might be the year when the Hawks' ascension out of mediocrity began. It seems I was so, so wrong.

Last Week (17)

| | |
| --- | --- |
| 19 | |

Milwaukee Bucks

Greek Freak is starting to do things outside being Greek-y and Freaky.

P.S. John Henson needs more burn.

Last Week (25)

| | |
| --- | --- |
| 20 | |

Utah Jazz

Trey Burke is making me look like an over-enthusiastic asshole. Hope that changes.

Last Week (24)

| | |
| --- | --- |
| 21 | |

Charlotte Hornets

Can the Hornets borrow the Clippers' panic button for a moment?

Last Week (23)

| | |
| --- | --- |
| 22 | |

Minnesota Timberwolves

Too bad Rick Rubio went down. This team was primed to surprise people all year.

Last Week (20)

| | |
| --- | --- |
| 23 | |

Orlando Magic

Watching Elfrid Payton and Evan Fournier operate on both ends of the floor has been a treat. Victor Oladipo should only make this team more exciting.

Last Week (29)

| | |
| --- | --- |
| 24 | |

Oklahoma City Thunder

[Insert your own assessment of the Thunder here because I'm currently busy writing my farewell letter to Reggie Jackson.]

Last Week (22)

| | |
| --- | --- |
| 25 | |

New York Knicks

One word: FreakingAwfulDirectionlessOffense.

Last Week (16)

| | |
| --- | --- |
| 26 | |

Los Angeles Lakers

There goes all the "Lakers will be 0-for-Christmas" jokes. VICTORY IS BYRON'S.

Last Week (28)

| | |
| --- | --- |
| 27 | |

Denver Nuggets

No matter how fast the Nuggets run, it hasn't changed the fact that they're traveling toward the middle of nowhere.

Last Week (19)

| | |
| --- | --- |
| 28 | |

Detroit Pistons

Josh Smith's passing, rebounding and defense has been solid. His shot selection, however, is suffering from a bad case of the Josh Smiths.

Last Week (27)

| | |
| --- | --- |
| 29 | |

Indiana Pacers

#ChrisCopelandForPresident

Last Week (28)

| | |
| --- | --- |
| 30 | |

Philadelphia 76ers

"Winless through seven games? Drinks, appetizers and discounted escorts on me!!!!!" -Sam Hinkie

Last Week (30)