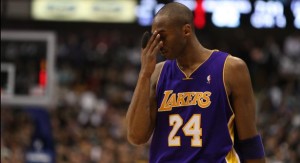 Remember when the season started and we mentioned Kobe was approaching a pretty negative milestone this season? In the Lakers 107-102 loss to the Memphis Grizzlies last night, Kobe Bryant added another 'accolade' to his resume, as he passed Boston Celtics legend John Havlicek for the most missed field goals in NBA history.
At exactly the 6:22 mark of the fourth quarter against the Grizzlies, Bryant missed a 14-foot fadeaway jumper from the left side, giving him his 13,418th career misses, one more than Havlicek.
Bryant finished with a game-high 28 points on 10-of-26 shooting which gives him a total 13,421 misses (and counting) in his career.
When asked about setting the record, he replied,
"Nah I don't follow that stuff"
Then further explains that when you've played in the league as long as he you really do put up big numbers.
"Well, I'm a shooting guard that's played 19 years," he said, shrugging and smiling. He later added, "Like I said, 'shooting' guard, 19th year."
Despite finding himself at the wrong end of history, Bryant doesn't really care about setting any more records except….another championship ring around his finger to match Michael Jordan's six. The problem is the way things are going for the Lakers, it is not looking too likely for Bryant before he wraps up his career.
Watch the recap of last night's struggles…
Benjamin Felix Santos is currently a senior college student from Manila, PH. An aspiring NBA writer, who bleeds the purple and gold. His love and passion for the game will never die.
Follow @biefsantos