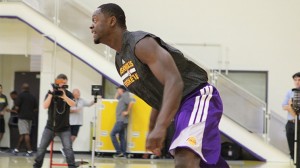 The seventh overall pick of the 2014 draft has been cleared by famous foot specialist Dr. David Porter to participate in the upcoming summer league in Vegas for the Lakers, according to Mike Trudell of Lakers.com.
Before being drafted, a lot of rumors have been swirling around the 6-foot-9 power forward from Kentucky regarding his foot injury. However, it looks like everything is fine with Randle's foot so far, and some teams were just trying to bring his value down so that, they would have a chance to select him.
1/2: It's been determined that Julius Randle doesn't need surgery on his foot. He is expected to play at Summer League in Vegas.

— Mike Trudell (@LakersReporter) July 3, 2014
With Randle surely not needing foot surgery, he and the Lakers can now focus on the upcoming season. Future Hall of Famers, Kobe Bryant and Steve Nash look forward to playing with the renowned rookie, as his acquisition will give the team that needed post presence and a relentless rebounder in the paint.
A lot of pressure will be on Randle this upcoming season, and he better prove his worth.