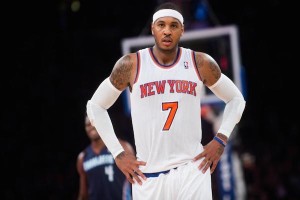 Anything the Los Angeles Lakers are willing to do, the New York Knicks are, well, also willing to do.
When the Lakers met with Melo on Thursday, they made it clear they were prepared to offer him the maximum amount allowed, per ESPN Los Angeles' Ramona Shelburne:
Lakers made it clear to Melo today they'd offer the maximum, 4-yr, $97mil contract they can, if he chose them.

— Ramona Shelburne (@ramonashelburne) July 4, 2014
You mean to tell me that a team headlined by Kobe Bryant, a superstar pushing 36 who sort of took a pay cut but not really, didn't ask Anthony, a superstar in his prime, to take one himself?
Shocking.
But not really.
Equally (not) shocking is the Knicks following suit, per the New York Daily News' Frank Isola:
A decision from Carmelo Anthony could come this weekend following a second meeting with the Knicks' top officials in Los Angeles on Thursday that resulted in team president Phil Jackson offering the seven-time All-Star a max deal of $129 million over five years.

The Daily News reported on Monday that Anthony fully anticipated the Knicks offering the maximum contract despite Jackson publicly challenging the free agent forward to take less. Jackson and head coach Derek Fisher met with Anthony late Thursday afternoon after Anthony conferred with the Lakers for two hours. Los Angeles, which could lose Pau Gasol in free agency, offered Anthony $96 million over four years, which is the most any team other than the Knicks could offer him.
First, drinks are on Melo. No matter what team he chooses, drinks are on him.
Second, this was always going to happen. It had to. Look at how the free-agent market is already unfolding. Jodie Meeks is getting paid. Avery Bradley is getting paid. Ben Gordon is actually still being paid to maybe, quite possibly, if the Orlando Magic are lucky, still play basketball.
Then you have LeBron James, who wants a max contract. And then you have Dwyane Wade and Chris Bosh, who are leery about taking pay cuts so that the Miami Heat can both give LeBron said max contract and deepen a fatally shallow roster.
Yes, Melo said he would take less. And yes, he may wind up taking less in the end. But it won't be a lot less—maybe, like, five years and $119 million or something.
Talking about pay cuts has become overrated. Actual pay cuts that push the needle are rare. We only consider them because the latest collective bargaining agreement makes it so damn hard for teams to pay more than one superstar. The only solution to this madness is for us to discuss superstars taking pay cuts to make room for other superstars.
Expecting Anthony to abide by that logic was always unrealistic. This is the last big contract of his career. He's going to get paid. And the Lakers needed to offer him a max deal if they were serious about signing him, just like the Knicks needed to do the same if they're serious about keeping.
Part of this is about respect. Some of it is about trouncing the poorly crafted offers the Chicago Bulls and Houston Rockets are slinging, neither of which is thought to surpass the $16-19 million annually range. More of it is about paying Anthony what he's owed, about acknowledging he's a top-10 superstar.
Most of it is just business.
By offering Anthony a max contract, Phil Jackson dispels the notion that he doesn't want Melo. This proves just the opposite. And hey, maybe Melo does take less. Perhaps he suggests a five-year, $119 million contract. Accepting a $2 million per year pay cut isn't nothing, after all.
Whatever he decides, whether it entails playing for the Lakers or Knicks, or taking the concept of "pay cut" to a wholly unprecedented level with the Rockets or Bulls, just know two things:
The Knicks made the right call by making the only call.
And, no matter what, drinks are still on Melo.
Dan Favale is a firm believer in the three-pointer as well as the notion that defense doesn't always win championships. His musings can be found at Bleacherreport.com in addition to TheHoopDoctors.com.