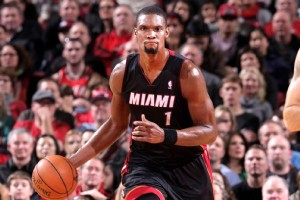 Where there's an available superstar, there's Houston Rockets general manager Daryl Morey waiting in the wings, pen in one hand, checkbook in the other.
The Rockets and Morey just won't go away. Not when it comes to courting superstar free agents.
Not when it comes to Chris Bosh.
According to ESPN.com's Marc Stein, the Rockets are prepared to make a serious push for the Miami Heat free agent should their pursuit of New York Knicks superstar Carmelo Anthony fall through:
The Houston Rockets, if they fail to land free agent Carmelo Anthony, plan to shift their attention to trying to swipe Chris Bosh from the Miami Heat, according to sources close to the process.

Sources told ESPN.com on Thursday night that the Rockets — while still holding out hope that Anthony will choose them after hosting him Wednesday in Houston — have already let Bosh know how interested they are in bringing the Dallas native back to Texas.

…

Most league observers continue to believe that Heat president Pat Riley ultimately will convince all three Heat stars to re-up by next week, even if Bosh and Wade are forced to take pay cuts.

But sources say the Rockets are determined to test Bosh's resolve in the event Anthony elects to return to the New York Knicks or chooses one of his other three primary suitors this week: the Chicago Bulls, the Dallas Mavericks or the Los Angeles Lakers.
A few things.
The Big Three are still long shots to disband. LeBron James, Dwyane Wade and Bosh are still teammates as of now. It's likely things stay that way. Remember that.
Houston's interest in Bosh and not LeBron—which is to say, they're deeming Bosh a bigger priority—is also interesting. It probably comes down to keeping their pipe dreams as realistic as possible. But I've also heard Dwight Howard and LeBron don't get along, hence Superman's continued public support of Anthony.
Finally, and most importantly, well done, Rockets. Bosh is an adequate Plan B. And he's a Plan B you'll have to explore.
After receiving max contract offers from the Los Angeles Lakers and Knicks on Thursday, Anthony isn't signing in Houston. Or with the Chicago Bulls. Or retiring to pursue a career as a member of some new, hip, candy-stripe-uniform-adorned barbershop quartet.
When Anthony makes his free-agent decision, we'll still be able to say he didn't follow the money. At the same time, he's going to follow the money. And it isn't in Houston.
Bosh makes more sense because he's willing to accept less. After crunching the numbers, I'm hard-pressed to see how the Rockets create more than $18-19 million in cap space if they want to keep the Howard-James Harden-Chandler Parsons troika intact. That figure may be generous as well. To reach $19 million, there's a strong chance Terrence Jones and Donatas Motiejunas need to be shipped out, two salary dumps the Rockets won't be willing to make (I hope).
Leading into free agency, Bleacher Report's Ethan Skolnick said Bosh could be had for less:
Even before Gortat deal, heard Bosh was aiming for 5/90 neighborhood. Could start that deal at 15M w/ max raises.

— Ethan J. Skolnick (@EthanJSkolnick) July 2, 2014
This, for the Rockets, would be huge.
Signing Bosh to a five-year contract worth a little under $90 million allows them to pay him $15 million in the first season. I say "under" because they don't have his Bird rights, so his raises wouldn't be as big. Yet they could still find some middle ground, perhaps starting him off at $16 to $16.5 million in 2014-15 and going from there. That requires very little maneuvering on their part. They've already traded Omer Asik; Jeremy Lin and a couple marginal salary dumps would be all that's left.
If LeBron up and leaves Miami, look for the Rockets to become serious players for Bosh. Teams like the Lakers and Dallas Mavericks could come into play too, but the Rockets can essentially sell him on a Big Four, something he wasn't even a part of in Miami. That's going to resonate.
But only if the Heat do what is still unthinkable—break up.
Dan Favale is a firm believer in the three-pointer as well as the notion that defense doesn't always win championships. His musings can be found at Bleacherreport.com in addition to TheHoopDoctors.com.