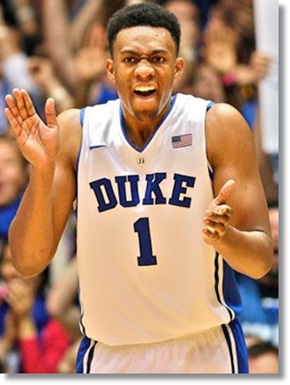 Less than a week ago, it was fairly easy to predict this Thursday's Top 3 draft selections, with Cleveland being enamored with Kansas big man Joel Embiid, Milwaukee going with Jabari Parker, and Philly winding up with hoops phenom Andrew Wiggins.
But following the news that top prospect Embiid had foot surgery on Friday and will be out a minimum of 4-6 months, Cleveland now is faced with the choice of taking Wiggins or Parker with the top pick.
Most would figure that Wiggins, the former standout at Kansas, would be the odds on favorite to go #1 since he has the highest ceiling of any prospect in the 2014 Draft but according to a recent report from CBSSports.com, the Cavs are said to be super high on Parker following a Sunday workout with the former Duke star.
Upon further thinking, it makes perfect sense.  Although everyone is enamored with the insane potential of Wiggins, the Cavaliers are in a unique position atop the draft in that they already have a superstar in Kyrie Irving, along with several other key pieces like Dion Waiters, Tristan Thompson, and last year's top pick Anthony Bennett.
Unlike Milwaukee and Philly, Cleveland is looking to win now, make the Playoffs next season, and in the process somehow convince Irving to remain with the Cavs long term, to eventually emerge as an Eastern Conference power.
With that logic, the Bucks would then select Wiggins at #2, with Philadelphia being the team on the outside looking in, taking a gamble on either Embiid or Australian point guard Dante Exum.
One thing for sure, it will be an interesting Thursday night….
Allen Moll has been a lifelong NBA and NCAA College Basketball fan who watches and studies games religiously, and coaches youth basketball in his native Lehigh Valley region of Pennsylvania. Allen has also provided content to Bleacherreport.com, Upperdeckblog.com, Cleveland.com, CSN Philly.com, Buckets Magazine, in addition to being a tenured NBA and NCAA columnist for TheHoopDoctors.com.