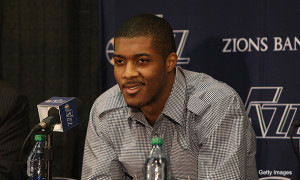 With this being the most anticipated NBA draft in more than a decade, many teams are doing what they can to get closer to that #1 spot. Utah has the 5 pick and while there will still be some talent at 5, they want to go for it all and pick first.
In order to obtain this objective, they're interesting in trading that fifth pick, along with Derrick Favors and Alec Burks, to Cleveland in return for that top pick and Jarrett Jack.
I don't expect Cleveland to pull the trigger on this but it's certainly interesting.
Jazz are offering up Derrick Favors, Alec Burks and No. 5 pick to Cavs for the No. 1 selection and Jarrett Jack, according to @1280Spence.
Jazz are offering up Derrick Favors, Alec Burks and No. 5 pick to Cavs for the No. 1 selection and Jarrett Jack, according to @1280Spence.

— Jody Genessy (@DJJazzyJody) June 23, 2014