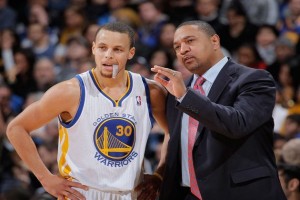 Mark Jackson and Stephen Curry definitely still text each other.
The Golden State Warriors point guard was always Jackson's biggest, most outspoken supporter. That hasn't changed in the wake of M-Jax's firing.
Speaking with reporters on Jackson's dismissal, Curry, according to the Associated Press (via ESPN) said that the "semi-quick hire" of Steve Kerr was "kind of a shock."
Know what's really shocking? That Curry found this shocking—Jackson's departure, that is. Rumors ran amok for the entire season. Did he just think they weren't true? That everything and anything was manufactured and fabricated and invalid babble?
Now Kerr specifically—he was a shock. The Warriors' interest wasn't. They clearly wanted him. The actual hire was a shock.
Long before the Warriors even fired Jackson, Kerr was considered the favorite for the New York Knicks' coaching position. Hell, he wasn't just the favorite, he was the only candidate. Phil Jackson didn't appear to be looking at anyone else.
Then Kerr up and signed with the Warriors. It was shocking to a lot of people. Others saw it coming.
Curry wasn't one of them.
Don't mistake the point guard's surprise for discontent, though. He's clearly unhappy that Jackson was dismissed despite his wishes, but he also maintains this sort of blind faith in the organization that supersede's his mentor's unceremonious departure:
"One thing I can say about this organization, they want to win," Curry said. "Each decision is geared toward winning. That's something that flies well with a lot of players — that they're going to try to put us in the best position to win. Obviously, I had a certain opinion of Coach Jackson that they made a decision otherwise, and I heard the reasons, but I won't dwell on it.

"As long as we're focused on winning and taking advantage of the roster we have and the opportunity we have with this window to try to continue to get better, I'm just looking forward to next year and getting back to making that happen," Curry said. "I haven't lost faith in that at all. As much as I supported Coach Jackson and loved everything about playing for him, I think they're about winning."
Give this kid a pat on the back. He knows how to have his cake and eat it too. Diplomatic answers don't get any better. Curry is apparently a conversational wizard.
And super smart.
Neither he nor any of his teammates can afford to harp on Jackson's departure. It's over and done with, and Jackson isn't coming back. The Warriors fired him for a reason (or 56). And given that the Warriors also saw it fit to trade Monta Ellis, draft Klay Thompson and find a way to acquire Andre Iguoala, you have to side with them to an extent, even if you don't know the full story.
Owner Joe Lacob is footing a serious bill for this team. They're inevitably going to hit the luxury tax, because they want to win.
That, more than anything else—including the way in which they handled Jackson's departure—matters.
Dan Favale is a firm believer in the three-pointer as well as the notion that defense doesn't always win championships. His musings can be found at Bleacherreport.com in addition to TheHoopDoctors.com.