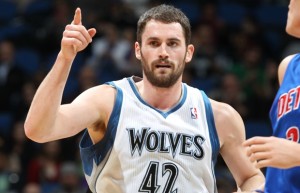 If a guy doesn't want to play in a certain market, there really isn't a whole lot that can be done about that. A lockout and restructuring the collective bargaining agreeemnt will only prolong the inevitable. We're finding that out with Kevin Love and Minnesota right now.
Love becomes a free agent in 2015, but according to reports, he does not plan on re-signing with the team. So the T'Wolves can do one of two things: call his bluff or trade him now to get back some assets. They'd be wise to exercise the latter and it sounds like that's the case
Kevin Love's people reiterated to the Timberwolves this past week that they had better trade him or else he'll leave via free agency when his contract is up after next season. With Love looking to exit, there's your No. 1 reason the T-wolves have not been able to find a head coach to take over for Rick Adelman. Love wants to play for the Lakers but he's also open to coming to the Knicks.
H/T: NY Daily News