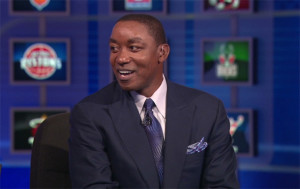 There's a lot of movement happening with the Detroit Pistons these days. Joe Dumars is no longer the GM and Stan Van Gundy is not the head coach and is running basketball operations as well.
But there may be a new change on the horizon: Isiah Thomas may become part-owner. Thomas' reputation has taken a hit over the past 15 years or so but you'd have to imagine he's still revered and appreciated in Motown.
Thomas and team officials are in preliminary discussions to make Thomas a minority owner, but the exact percentage hasn't been agreed upon. It would make Thomas one of a few African-Americans with a stake in an NBA team.

"Not a ceremonial piece, but a respectable piece," was how a source with knowledge of the negotiations termed the potential deal.
H/T: The Detroit News