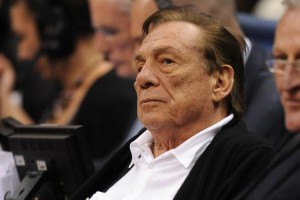 "Racism is a much more clandestine, much more hidden kind of phenomenon, but at the same time it's perhaps far more terrible than it's ever been," Author and former Professor Angela Davis said during an interview in 1999.
On the heels of the racially charged and offensive comments made by Nevada Cattle Rancher Cliven Bundy, which included the statement, "I've often wondered, are they [Blacks] better off as slaves, picking cotton," Los Angeles Clippers owner Donald Sterling's own racist comments reveal racist undercurrents in professional sports and the NBA.
Courtesy of TMZ and Deadspin, by now, we've all heard or read some of Sterling's alleged comments to ex-girlfriend V. Stiviano, like "don't come to my games. Don't bring Black people" and "I support [Blacks] and give them food, and clothes, and cars, and houses."
Just 4 years ago, many took offense to Cleveland Cavaliers owner Dan Gilbert's "open letter" to his fans (and LeBron James), after his 'decision' to leave the organization, in which Gilbert, a Jewish lawyer (like Sterling), called James leaving as a free agent, a "shocking act of disloyalty." To Reverend Jesse Jackson, "[Gilbert's] feelings of betrayal personify a slave master mentality. He sees LeBron as a runaway slave."
In a league, according to a 2013 study, that is 76% Black and 19% White. 53% of the coaches are White and 98% of the NBA owners are White, eerily similar to the NFL where 97% of the owners are White. The only non-White owners in the NBA are currently Michael Jordan (Charlotte Bobcats) and Vivek Ranadive (Sacramento Kings).
And do we really need to use the word "owner" in a league that is primarily Black and the so-called "owners" are White? In America, nonetheless.
Even more troubling is that former NBA Commissioner David Stern should have seen this coming with Sterling's litany of offenses to the human race, like using the "N" word in an interview and harassing Black and Latino tenants. Elgin Baylor, who worked for Sterling for 22 years as the Clippers General Manager, filed in his lawsuit against Sterling that the owner wanted "a Southern plantation type structure" for his team.
Everyone from the President of the United States to Snoop Dogg has criticized Sterling's alleged hate speech.
Larry Johnson says players should start an all-black basketball league with only black owners.
Jordan added, "there is no room in the NBA—or anywhere else—for the kind of racism and hatred that Mr. Sterling allegedly expressed."
Commissioner Adam Silver remarked, "there is no place for such racism….anyone connected with the League who engages in such abhorrent rhetoric will face serious consequences"
Only people like right-wing pundit Bill Kristol have come out in support of Sterling.
Even Snoop Dogg had some choice words for the Clippers owner, including "F**k you. You chicken s**t m*****f****r," as posted in this video on instagram.
Sponsors like CarMax, Virgin America, State Farm, Kia Motors, P. Diddy's water brand AQUAHydrate, Red Bull, and Yokohama have dropped association with the Clippers.
Before game 4 of their 1st round series against the Golden State Warriors, the Clippers engaged in a silent protest of taking off their practice jerseys at center court and wearing their t-shirts inside out to hide the Clippers logo, a pretty tame protest. They lost 118 to 97. The Clippers should have just boycotted that game. In game 5, the Clippers came back with an emotional and physical 113-103 victory over the Warriors. They Miami Heat and various teams have done similar displays to show solidarity.
As a result of this shameful display, the NBA's Adam Silver has banned Donald Sterling from attending games "for life" and fined him $2.5 million.
The Celtics ownership released a statement in support of the NBA's ban of Sterling, as did Herb Kohl, former owner of the Milwaukee Bucks. Mavs owner Mark Cuban has also supported Silver's decision.
Finally, on a personal-level, as a Jewish/Native American, I'm appalled by the ignorant, intolerant, and indefensible comments purportedly made by Donald Sterling. Not to see the connection between the oppression of all races is simply uncultured and uneducated.