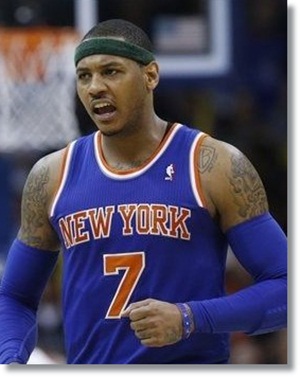 For the first time in Carmelo Anthony's illustrious 11 year NBA career, he will be watching the postseason rather than participating.
Following the Atlanta Hawks' big win over the Miami Heat Saturday night, the Hawks clinched the 8th and final Playoff spot in the Eastern Conference, officially putting an end to a disappointing Knicks season.
New York was just one year removed from winning 54 games, taking home the Atlantic Division crown, and losing in the semis to the upstart Indiana Pacers.
There were many reasons for such a disastrous season ranging from former Defensive POY Tyson Chandler missing a significant portion of the year due to injury, the constant 3 ring circus surrounding last season's 6th Man of the Year JR Smith who also missed time due to injury and suspensions.
Easily the biggest reason for the Knicks' failures this season have to be the lackluster production from the point guard position, where Ray Felton and Pablo Prigioni clearly missed the veteran presence felt last season by future Hall of Famer Jason Kidd, now the head coach of the rival Brooklyn Nets.
Right or wrong, many will point the finger at superstar Carmelo Anthony, but that would be a mistake.  Last season's scoring champion takes a ton of flack for shooting too much but in reality Melo had one of his best seasons of his career, joining only Larry Bird, Michael Jordan, and Kevin Durant as the only players to average 27 ppg, shoot 45% from the field, more than 40% from behind the arc, and 80% from the free throw line.
Even the oft injured Amare Stoudemire seemed to reinvent himself thanks to the tutelage of Hakeem Olajuwon, proving he can exceed the dreaded minutes limitation imposed by coach Mike Woodson,  proving once again to be a valuable contributor from the front-court.
With the Zenmaster Phil Jackson now in charge of re-inventing the team going forward, the big question now turns to whether Phil thinks Carmelo is the ideal fit for his patented triangle offense that has helped him win 11 NBA Titles with both the Chicago Bulls and LA Lakers.
Should the Knicks re-sign Carmelo in the offseason or blow up the entire roster?
Allen Moll has been a lifelong NBA and NCAA College Basketball fan who watches and studies games religiously, and coaches youth basketball in his native Lehigh Valley region of Pennsylvania. Allen has also provided content to Bleacherreport.com, Upperdeckblog.com, Cleveland.com, CSN Philly.com, Buckets Magazine, in addition to being a tenured NBA and NCAA columnist for TheHoopDoctors.com.