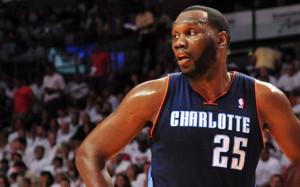 Al Jefferson and the Charlotte Bobcats are in trouble.
At least one key player always gets injured during the first week of the NBA playoffs. It's like a postseason rite of passage. A very, very unfortunate rite of passage. This past weekend was no different.
We saw Tim Duncan give the San Antonio Spurs a scare when he banged knees with Monta Ellis. We saw Patrick Beverley suffer a sprained knee in the Houston Rockets' loss to the Portland Trail Blazers. But the most serious injury hit Jefferson in the Bobcats' Game 1 loss to the Miami Heat.
Jefferson suffered a strained plantar fascia in his left foot early in the game on Sunday. Those unfamiliar with these types of foot injuries only need to know this: They suck. I'm no doctor, but I know they suck. They're awfully painful, and painfully awkward to play on—especially for big men, who are forced to put inordinate amounts of weight on their feet.
If this had been a normal, regular-season game, Jefferson doesn't return. But this was no ordinary game. It was the playoffs. It was the Bobcats' first playoff game since 2010. They held a 23-19 advantage after the first quarter. Jefferson wasn't going to sit. He was going to plow through instead.
And plow through he did.
Charlotte's big man received two injections that allowed him to finish the game. The first he received just after he injured his foot in the first quarter. The second came at halftime. But while those injections allowed him to continue playing, the damage had been done.
Though he finished the game with 18 points and 10 rebounds in over 35 minutes of action, the foot was an issue after he returned. He wasn't running up and down the floor with as much ease, and there were times when he was grimacing through the pain. Truth told, he didn't look like someone who should have still been playing, or even someone who should necessarily play Game 2 on Wednesday.
Sitting, however, isn't an option. Jefferson made that clear afterward, per Sports Illustrated's Ben Golliver:
"I just heard something pop," he said. "It was a lot of pain. I really don't know all the details. I know I'll be OK. It's something you have to play through … I don't like needles. It was very uncomfortable for me. I got [an injection] one right when it happened … and I got one at halftime. It felt a lot better in the third quarter. … It was something I had to get used to."

[…]

"You've just got to suck it up, man," he said. "I'll be fine for the remainder of the playoffs."
Loose interpretation of the word "fine" in mind, credit Jefferson's resolve. The Bobcats clearly aren't going to win this series against the Heat. That was always the case. Even with a healthy Jefferson, this best-of-seven clash never figured to go beyond five games. Yet he still plans to play on.
If the pain becomes too much, though, the Bobcats must think long term. Jefferson is important to next season and—assuming he exercises his player option for 2015-16—the season after that. If they want to build something sustainable, there's no reason to risk playing him to the point of a more severe injury.
Plantar fascia injuries tend to crop up if not treated properly. Joakim Noah battled it with the Chicago Bulls through last season, and it just never seemed to go away. The Bobcats cannot have the same thing happen to Jefferson.
Once this series gets out of reach—and it will inevitably be out of reach—the injections need to stop, Jefferson needs to be rested and this young, promising and defensively apt Bobcats team needs to accept that preserving their ceiling for next season and beyond is far more important than maybe, quite possibly, if they're lucky, stealing a game in a matchup they're going to lose no matter what.
Dan Favale is a firm believer in the three-pointer as well as the notion that defense doesn't always win championships. His musings can be found at Bleacherreport.com in addition to TheHoopDoctors.com.