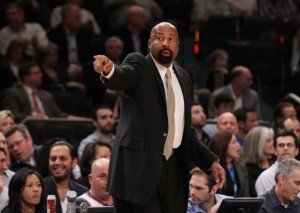 In order to build something sustainable, consistency is key. Look no further than the Knicks as an example. Musical chairs at the head coaching position is never a good thing. After a 54-win season a year ago and the first division crown in two decades, Mike Woodson has been fired as head coach of the New York Knicks. Presumably, Phil Jackson pulled the trigger.
This should come as a shock to no one, Woodson included, but where do the Knicks go from here? If reports are accurate, Phil has interest in TNT analyst, Steve Kerr. My guess is that Kerr will be named the next Knicks head coach within the next three weeks or so. I'm also guessing that he will not fare will in that role. Regardless, whoever is brought in to coach this squad, Phil Jackson better make sure they are there for the entire time he's there because musical chairs needs to cease.
Phil Jackson made his first major decision since becoming Knicks' president. As expected, Mike Woodson took the fall for the Knicks missing the playoffs for the first time in four years. Woodson and his staff were relieved of their duties, the Knicks announced Monday morning.
Jackson fired Woodson five days after the Knicks finished a disappointing 37-45 and failed to reach the postseason in the watered-down Eastern Conference.
Woodson was 109-79 in 2 ½ seasons on the Knicks' bench. His.580 winning percentageranks third in franchise history, behind Pat Riley and Jeff Van Gundy.
H/T: Newsday