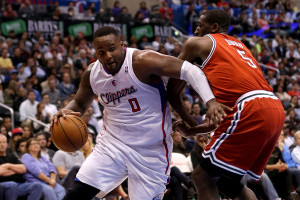 Glen Davis' night was cut short on Saturday after he was pulled early in the second quarter and then banished to the locker room by head coach Doc Rivers.
Davis was yanked by Rivers at the 10:21 mark of the second quarter and had something to say to his head coach on his way to the bench. Rivers fired back at Davis and then had team security escort him back to the locker room area for the remainder of the game. The Clippers went on to defeat the Houston Rockets 118-107.
Davis played just 3:45 before his banishment and missed both of his field goal attempts. He is averaging 3.6 points and 2.5 rebounds in 14 games since signing with Los Angeles after successfully negotiating a buyout from the Orlando Magic.
Davis spent the first four years of his NBA career with the Boston Celtics where he was coached by Rivers. He was traded to Orlando in 2011 and his time there was often turbulent. He was fined on three different occasions and earned a two-game suspension by the team for an outburst at a shoot-around in 2012.