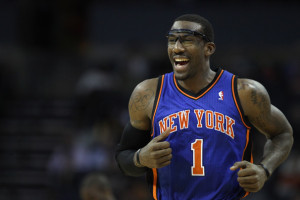 Often times in life, we don't get what we want. It's unfair but that's the way it is. Amar'e Stoudemire may learn this pretty soon. He recently connected with Bleacher Report and opened up about a few things (we encourage you to read the entire piece). One of his desires is to finish up his career as a Knicks. Unfortunately, as soon as his contract allows, he will be on the first thing smoking out of New York given his contract and injuries.
It's sad because his first year in NY was great.
"I want to be a Knick for life and win multiple championships here. I don't want to go anywhere else, especially with (Phil) Jackson coming in. He has an incredible legacy; it's probably unmatched. With a leader like that, it can only become a positive output with that type of leadership.
H/T: Bleacher Report