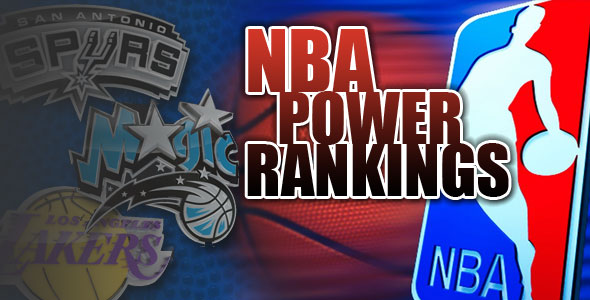 It's almost here.
No, not real life pocket-sized lightsabers. Those are still a ways off. The NBA trade deadline. That's what almost here.
Thursday at 3 p.m. ET , the deadline will come to pass, at which point, the Association's power structure could experience a seismic shift, inciting disorder into an already-crazed season.
Or, more likely, we'll continue going on our merry way, occasionally regretting all the time we spent dissecting and analyzing rumors that never came to fruition. Now doesn't that suck? Most definitely, but it's life this side of the lockout, where the collective bargaining agreement is harsh and punitive, and the 2014 and 2015 draft classes are so deep, teams are reluctant to deal first-round picks, thereby mucking up things for all of us.
In other words, inaction is likely to dominate the trade deadline. Rumors will run rampant and speculation will ensue, but don't expect rosters to change much. Think small. And then think smaller. Smaller than J.J. Redick being traded to the Milwaukee Bucks like last year. Maybe even way smaller than that.
Luckily, deadline change isn't necessary for us this season. While exciting and thrilling and captivating, the deadline is but a footnote for this campaign—this wonderful, wacky, all-kinds-of-messed-up season. Change is already constant in today's NBA. The Western Conference is aligned with powerhouses battling for position, and the Eastern Conference is rife with shitty-ass contingents chasing underserving playoff spots. That makes for an interesting year no matter what happens at the deadline.
Maybe this year is different from 2013. Maybe there is a lot of movement ahead of and leading up to the February 20 deadline. Maybe blockbuster deals galore go down in a haze of trigger-happy general managers telling future draft picks and the current CBA to fuck off.
Or maybe not.
Whatever happens, the week-to-week dealings are enough this season. A busy trade deadline could make them even better*, but it's not necessary. The NBA has already given us enough mayhem to look forward to.

*Keeping in theme with the imminent trade deadline, we'll ask the biggest question(s) facing each and every team heading into Thursday's 3 p.m. ET extravaganza.
**Welcome back to The Hoop Doctors' PG-13 NBA Power Rankings, where almost anything goes. Language may sometimes not be suitable for those reading at work, in which case I recommend you don't read these aloud or you get a new job. Like most PG-13 movies, we'll permit one F-bomb per post. Those devoid of a sense of humor need not proceed. 
***For a week by week list of all our NBA Power Rankings this season, please visit this page.
NBA Power Rankings
| | |
| --- | --- |
| 1 | |

Oklahoma City Thunder

"Is it possible to be TOO good?

On that note, any chance we're able to swing a deal for Gary Neal?"

Last Week (1)

| | |
| --- | --- |
| 2 | |

Miami Heat

"Questions? You can take your stinkin' questions and go fudge off. The only thing we need to figure out is where Dwyane Wade's going to put that fourth Larry O'Brien Trophy."

Last Week (3)

| | |
| --- | --- |
| 3 | |

Indiana Pacers

Indiana is sort of losing it's luster, though it's not exactly losing games. Any way the Pacers can upgrade their offense? Then again, Chris Copeland doesn't play much, so, you know…

Last Week (4)

| | |
| --- | --- |
| 4 | |

Houston Rockets

Is Daryl Morey's asking price for Omer Asik too high? Um, yes. The Rockets shouldn't be focused on picks; they should be zeroing in on shooters. Or, you know, anything they can get for a disgruntled 7-footer who rarely plays.

Last Week (5)

| | |
| --- | --- |
| 5 | |

Los Angeles Clippers

Yikes, J.J. Redick. What are the chances of Los Angeles building a time machine, returning to last summer and realizing Eric Bledsoe is worth so much more than it got?

Last Week (4)

| | |
| --- | --- |
| 6 | |

Memphis Grizzlies

"Who needs Tony Allen? Not us."

Last Week (6)

| | |
| --- | --- |
| 7 | |

San Antonio Spurs

"What's the trade deadline?"

Last Week (12)

| | |
| --- | --- |
| 8 | |

Phoenix Suns

Gotdamn the Suns are good. Now if they could only turn one of their many, many, many—how in the hell do they have that many?—first-rounders and Emeka Okafor into somebody special. Who? I don't really care, because they're already fun.

Last Week (6)

| | |
| --- | --- |
| 9 | |

Dallas Mavericks

"The Bank of Cuban is open," Mark Cuban (probably) said, fully aware no one gave two shits anymore. "Who wants to deal?"

Last Week (13)

| | |
| --- | --- |
| 10 | |

Portland Trail Blazers

What are the Blazers without LaMarcus Aldridge? We'll soon find out, but they're probably little more than nothing.

Last Week (7)

| | |
| --- | --- |
| 11 | |

Toronto Raptors

How is it the Raptors keep winning? Kyle Lowry, who they most definitely shouldn't trade.

Last Week (11)

| | |
| --- | --- |
| 12 | |

Chicago Bulls

Does Tom Thibodeau lace 29 other teams' food with bad meth? That's the only explanation as to how the Bulls are playing so well.

That, and DEFENSE.

Last Week (13)

| | |
| --- | --- |
| 13 | |

Golden State Warriors

"Can we pretty, pretty please use Harrison Barnes and David Lee to acquire Kevin Love?"

Last Week (10)

| | |
| --- | --- |
| 14 | |

Charlotte Bobcats

Charlotte is one Evan Turner acquisition away from being really good in the Eastern Conference. Should they pay him after this season, though? That would be the question.

Last Week (15)

| | |
| --- | --- |
| 15 | |

Brooklyn Nets

"What's going to push us over that championship hump, Billy?" Nets owner Mikhail Prokhorov asked his general manager.

"MARCUS THORNTON ALL DAY, EVERYDAY, PROK," King exclaimed, knowing full well he was full of shit.

Last Week (11)

| | |
| --- | --- |
| 16 | |

New Orleans Pelicans

Can this team please, oh please, trade Eric Gordon? Tyreke Evans, too? Would love to see Anthony Davis paired with a top-five pick from this year's draft.

Last Week (22)

| | |
| --- | --- |
| 17 | |

Minnesota Timberwolves

"Trade Kevin Love? Are you out of your minds?" Flip Saunders asked rhetorically.

"No…" we all said, trailing off in unison.

"Oh, well, screw you. We don't have a chance at keeping him or making the playoffs these next two seasons or doing anything special at all, so we're obviously not going to trade him."

Last Week (17)

| | |
| --- | --- |
| 18 | |

Washington Wizards

What can this team do to improve its offense? Hope against hope it strikes a miracle trade. Or go back in time to not draft Otto Porter Jr.

Last Week (16)

| | |
| --- | --- |
| 19 | |

Atlanta Hawks

"Who wants Jeff Teague? Anyone? Anyone?"

"ANYONE? PLEASE?"

Last Week (17)

| | |
| --- | --- |
| 20 | |

Cleveland Cavaliers

"We are buyers at the deadline. What are we buying, you ask? The right to the East's No. 8 seed, or a late-lottery finish when an early one would actually benefit us."

Last Week (25)

| | |
| --- | --- |
| 21 | |

Utah Jazz

"The trade deadline? SCREW the trade deadline. How about some Trey Burke for Rookie of the Year chatter?"

Last Week (23)

| | |
| --- | --- |
| 22 | |

New York Knicks

Knowing the Warriors would send a 2019 first-rounder to Boston, and the Knicks would send a 2018 first-rounder to Boston, who says no:

http://espn.go.com/nba/tradeMachine?tradeId=n4l2mco

Last Week (20)

| | |
| --- | --- |
| 23 | |

Detroit Pistons

"Deal Greg Monroe? Who? Us? Funny. We'd much rather let him walk away for nothing this summer as opposed to using him in attempt to land actual floor spacers."

Last Week (19)

| | |
| --- | --- |
| 24 | |

Denver Nuggets

What in God's name are the Nuggets doing? They're hot, then cold, then mostly cold again. Now they're stone-cold frozen. And they smell. Bad.

Last Week (21)

| | |
| --- | --- |
| 25 | |

Boston Celtics

Shipping Rajon Rondo off to the highest bidder would make sense. Will the Celtics do it? Probably not, because Danny Ainge hates us all—especially the Knicks.

Last Week (26)

| | |
| --- | --- |
| 26 | |

Sacramento Kings

Would the Kings really deal Isaiah Thomas? Absolutely. Will they? I'm not sure they actually will, but they most definitely would, because Kings gonna King.

Last Week (27)

| | |
| --- | --- |
| 27 | |

Los Angeles Lakers

"What's so funny about us trying to use 33-year-old Pau Gasol to land Kevin Love?"

EVERYTHING.

Last Week (28)

| | |
| --- | --- |
| 28 | |

Orlando Magic

Will the Magic do anything significant at the deadline? Eh, let's go with no. Arron Afflalo would look awfully good on the Thunder, but Orlando is tanking quite nicely as is. Best not to mess with that.

Last Week (24)

| | |
| --- | --- |
| 29 | |

Philadelphia 76ers

To be sure, the Sixers shouldn't have moved up, but they were only an honorary No. 30 thanks to their loss to the Clippers last week. No team, not even the Sixers, are worse than the Bucks.

Also: Why are Evan Turner, Thaddeus Young and Spencer Hawes still members of this team?

Last Week (30)

| | |
| --- | --- |
| 30 | |

Milwaukee Bucks

Why can't Giannis Antetokounmpo and John Henson play for a good team? Why can't they play for a franchise known for building talent, not ruining it?

Why can't they play for any team other than the Bucks?

Last Week (29)