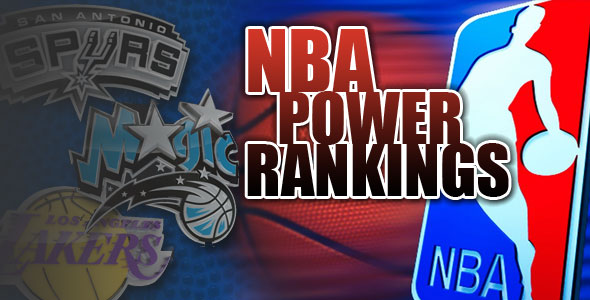 This one's all about you.
No, not you, Steven Tyler, lead singer of Aerosmith. I know you're reading, but this isn't about just you. It's about all of you, the fans.
Imagine the worst version of yourself; the absolute most-insufferable supporter of your favorite NBA team. Then times it by 10. Or more. That's what we're looking at here.
In this week's power rankings, we'll be pondering quotes from some of the most loyal and/or delusional and/or douchebaggish fans ever. You know the ones. Those who usually use "we" when referencing a team they don't play for. Yeah, those fans. We're going to get quotes from them. They're not at all fake.*
Come, join me has we use logic to see how the Association is shaping up, only to become enamored with sometimes-nonsensical takes on what's happening to your team.  We're well past the season's midway point, and with the Lakers tanking, Heat not caring, Thunder dominating and Grizzlies surging, we need to hear from you, the fans.
However ridiculous, off color or spot-on your train of thought may be.
*They're fake.
**Welcome back to The Hoop Doctors' PG-13 NBA Power Rankings, where almost anything goes. Language may sometimes not be suitable for those reading at work, in which case I recommend you don't read these aloud or you get a new job. Like most PG-13 movies, we'll permit one F-bomb per post. Those devoid of a sense of humor need not proceed. 
***For a week by week list of all our NBA Power Rankings this season, please visit this page.
NBA Power Rankings
| | |
| --- | --- |
| 1 | |

Oklahoma City Thunder

"Kevin Durant isn't the Slim Reaper. Or KD. Or the Durantula. Or the Slender (something that rhymes with slender). He's God."

Last Week (1)

| | |
| --- | --- |
| 2 | |

Indiana Pacers

"Andrew Bynum makes us title favorites. He probably won't play. And we really don't need him. But he makes us favorites because: Suck it, Heat."

Last Week (2)

| | |
| --- | --- |
| 3 | |

Portland Trail Blazers

"Our defense is good enough. So long as we score 120 points every night, our defense is good enough."

Last Week (4)

| | |
| --- | --- |
| 4 | |

Miami Heat

"Stop talking about the Pacers. It's the freaking regular season. We don't care. Shit, us fans don't even show up to Heat games until, like, midway through the third quarter anyway."

Last Week (3)

| | |
| --- | --- |
| 5 | |

Memphis Grizzlies

"Hey, all of the NBA. Fuck you."

Last Week (7)

| | |
| --- | --- |
| 6 | |

Phoenix Suns

"Pssh, Pau Gasol? Who needs him? Not us. Keep him, Lakers. We won't give you one of our many, many, basically-worthless-to-us-now first-round draft picks."

"No, wait! We were only kidding. Please, please give us your seven-foot Spaniard with bouncy hair."

Last Week (9)

| | |
| --- | --- |
| 7 | |

Houston Rockets

"Are James Harden and Dwight Howard top-10 stars? No. But don't tell anyone I said that, because we're winning and I really don't want to have my butt cheeks branded by a griddle again." 

Last Week (10)

| | |
| --- | --- |
| 8 | |

Los Angeles Clippers

"Blake Griffin is not overrated. Look at what he's done without CP3. Do we trust him to keep it up? No. But look what he's done."

Last Week (6)

| | |
| --- | --- |
| 9 | |

Golden State Warriors

"Welcome to Oakland, where we make Al Jefferson look waaaaaaaay better than he actually is."

Last Week (8)

| | |
| --- | --- |
| 10 | |

San Antonio Spurs

"Who you calling old and boring? There's nothing wrong with experience. If Danny Green could start playing better and remain healthy, we'll be fine. Just like we always are."

"Also, Ray Allen can still kiss my ass."

Last Week (5)

| | |
| --- | --- |
| 11 | |

Atlanta Hawks

"We almost beat the Pacers. DID YOU SEE? WE ALMOST BEAT THE PACERS. DID YOU SEE? DID YA?"

Last Week (14)

| | |
| --- | --- |
| 12 | |

Denver Nuggets

"You think we're going to trade Lowry? Puh-lease. Masai knows this team can do some damage. Screw tanking. We'd rather lose in the first round of the playoffs and let him leave for nothing this summer rather than plan for a brighter future."

Last Week (13)

| | |
| --- | --- |
| 13 | |

Dallas Mavericks

"We have a real chance to do something mediocre this season."

Last Week (11)

| | |
| --- | --- |
| 14 | |

Brooklyn Nets

"Look, if Pierce and Garnett start playing better, and if Joe 'Jesus' Johnson isn't seriously hurt, and if D-Will stays healthy, and if Andrei Kirilenko stays healthy too, we have a real shot at making it out of the first round."

Last Week (14)

| | |
| --- | --- |
| 15 | |

Washington Wizards

"You're not going to believe this…Chris Singleton is still in the NBA! And he's on our team!"

Last Week (19)

| | |
| --- | --- |
| 16 | |

Minnesota Timberwolves

"Love isn't going anywhere. We have Pekovic and Rubio and Brewer and Martin and Barea. Why would he want to leave those guys behi—shit, he's leaving isn't he?"

Last Week (17)

| | |
| --- | --- |
| 17 | |

Denver Nuggets

"No Nate Robinson? No Danilo Gallinari? No problem. Least we got 'Melo. Oh, shit, we traded him in 2011? Damn. This weed took me back like five years for a second."

Last Week (12)

| | |
| --- | --- |
| 18 | |

Chicago Bulls

"If Carlos Boozer wants to play in the fourth quarter then he better shut his yap and bow down to Tom Thibodeau and then promise to give Taj Gibson his starting spot."

Last Week (16)

| | |
| --- | --- |
| 19 | |

New York Knicks

"Yo, Felton. Forty fudge pops says you can't play defense for an entire quarter without sweating frosting."

Last Week (18)

| | |
| --- | --- |
| 20 | |

New Orleans Pelicans

"All questions will be answered from hereon out by responding, 'Anthony Davis.' Do we have hope for the future? Anthony Davis. Will we make the playoffs next year? Anthony Davis. What additions do we need to make to the roster this summer? Anthony Davis. Who likes to shower with an inflatable hippo? Anthony Davis."
.

Last Week (20)

| | |
| --- | --- |
| 21 | |

Charlotte Bobcats

"Do these pants come in size Josh McRoberts?"

Last Week (21)

| | |
| --- | --- |
| 22 | |

Detroit Pistons

"Don't trade Greg Monroe, trade Smoove. See if the Timberwolves will except him and Brandon Jennings for Kevin Love and Ricky Rubio. No, actually, that's too much. They should throw in Kevin Martin for Charlie Villanueva because we're giving up too much."

Last Week (22)

| | |
| --- | --- |
| 23 | |

Utah Jazz

"We're too good. We're too freaking good. Damn you, Eastern Conference. Screw y'all. We're too good and it's all your fault."

Last Week (24)

| | |
| --- | --- |
| 24 | |

Sacramento Kings

"Kiss our asses, Mike Dunleavy. Boogie could take you down any time he wants, you Casper-skin-tinged clown."

Last Week (26)

| | |
| --- | --- |
| 25 | |

Boston Celtics

"We ain't trading Rondo to nobody. NOBODY. Unless it's for a top draft pick. Or another star. Or the Lethal Weapon box set on Blu-ray."

Last Week (27)

| | |
| --- | --- |
| 26 | |

Philadelphia 76ers

"Trade Evan Turner already dammit. And Spencer Hawes. And Thaddeus Young. And stop talking about Omer Asik. Dude's a seven-foot, Muppet-looking tool."

Last Week (28)

| | |
| --- | --- |
| 27 | |

Los Angeles Lakers

"Okay, so here's the plan: Kobe's going to get healthy and then hold Adam Silver at gunpoint so we get a top-five pick. And then we're going to draft Dante Exum and then trade for Kevin Love next season and then we're going to win a championship and Obama is going to hug us and everything will be fine."

Last Week (25)

| | |
| --- | --- |
| 28 | |

Cleveland Cavaliers

We're going to my colleague Adam Fromal here for this one:

"Cavs are capable of beating good teams with our current roster. Just last night we almost beat a shitty team, who almost beat a mediocre team last week, who almost beat a good team last month. And our defense looked like…defense."

Last Week (23)

| | |
| --- | --- |
| 29 | |

Orlando Magic

"Arron Afflalo should've been an All-Star. He's the only reason I watch basketball anymore. This isn't fair. THIS ISN'T FAIR. I miss Dwight How—all right, it hasn't come to that yet."

Last Week (29)

| | |
| --- | --- |
| 30 | |

Milwaukee Bucks

"That last Giannis Antetokounmpo reverse you just saw wasn't really a layup…it was God, revealing himself through obnoxious wingspan."

Last Week (30)