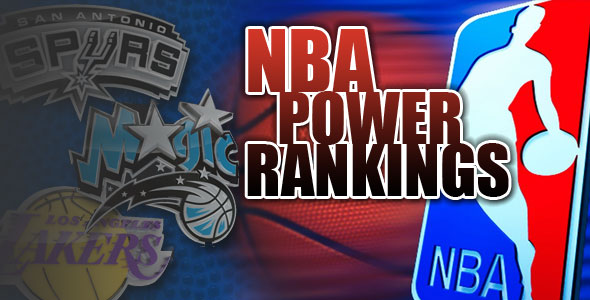 That stench wafting through your home and into your oversized nostrils is coming from the NBA.
Although it's difficult to pinpoint what it actually is, we're above confusion: it's clarity. We've reached that point of the year where the Association's happenings finally make more sense than whatever outfit Robin Thicke is wearing these days.
Injuries and surprises and disasters and injuries and the Knicks and injuries and the Nets and injuries prohibited us from falling into a sense of patterned security. The league's power structure didn't just vary by week—it was ripped apart, swallowed hole and shit out in the shape of a different Muppet every week. No joke.
Tides are slowly, surely beginning change. Certain teams supposed to play better are actually playing better while a few others performing above their heads are steadily regressing to the mean. And those select few, typically dominant teams already bleeding stability, remain strong.
But that doesn't mean there still aren't a few outliers. Or that once-infuriating teams mucking up our initial projections won't fuck with us some more. There's still time for more chaos.
So, really, that odor is coming from the lies I'm telling. Things aren't completely certain or even predictable just yet, but they're getting there.
Come, join me, as we attempt to make sense of a season that doesn't make sense but is starting to make some sense and will hopefully make even more sense by campaign's end.
Make sense?
**Welcome back to The Hoop Doctors' PG-13 NBA Power Rankings, where almost anything goes. Language may sometimes not be suitable for those reading at work, in which case I recommend you don't read these aloud or you get a new job. Like most PG-13 movies, we'll permit one F-bomb per post. Those devoid of a sense of humor need not proceed. 
***For a week by week list of all our NBA Power Rankings this season, please visit this page.
NBA Power Rankings
| | |
| --- | --- |
| 1 | |

Indiana Pacers

They're on pace to have one of the best defenses. Ever. And their offense continues to reach levels of respectability. This team, the same one I've personally doubted all season, is GOOD.

Last Week (2)

| | |
| --- | --- |
| 2 | |

San Antonio Spurs

"WE'RE BACK, BITCHES!" -Spurs coach Gregg Popovich

Last Week (6)

| | |
| --- | --- |
| 3 | |

Golden State Warriors

Hottest team in the NBA, and one backup point guard away from ensuring they'll be a top-three outfit in the we-will-kill-you-rob-you-then-sleep-with-your-mom-sister-and-ex-girlfriend Western Conference.

Last Week (3)

| | |
| --- | --- |
| 4 | |

Oklahoma City Thunder

I'm reaching here, I know. Kevin Durant can wax regret about taking too many shots all he wants, but he needs to shoot more with Russell Westbrook out. It's their defense that worries me most. Missing tons of energy without Russ, further proving that Serge Ibaka was, and remains, wildly overrated on that end of the floor.

Last Week (4)

| | |
| --- | --- |
| 5 | |

Miami Heat

"Hellz yeah we sleepwalk through the first 82 games of the season. What's it to ya?" -Dwyane Wade

Last Week (1)

| | |
| --- | --- |
| 6 | |

Portland Trail Blazers

This offense is killer. In a great way. The defense is sick. In a horrible, snot-filled pie way.

Last Week (5)

| | |
| --- | --- |
| 7 | |

Houston Rockets

Dwight Howard's play is subtly masking the fact that Houston is handling this Omer Asik situation about as well as Alex Rodriguez handled his steroids debacle.

Last Week (7)

| | |
| --- | --- |
| 8 | |

Los Angeles Clippers

Thank whatever God it is Donald Sterling prays to for an easy schedule of late. Still, can't help but believe Chris Paul's absence will come back to bite this team in the ass like a rabid doberman who hasn't eaten meat in six months.

Last Week (7)

| | |
| --- | --- |
| 9 | |

Dallas Mavericks

Dirk Nowitzki and friends are playing some stellar basketball, though they should send a handful of refs a fruit basket for helping them along the way.

Last Week (12)

| | |
| --- | --- |
| 10 | |

Toronto Raptors

"We really need to tank—ah screw it. Let's try to win the Atlantic Division instead. No one else seems to want to." -Masai Ujiri

Last Week (11)

| | |
| --- | --- |
| 11 | |

Phoenix Suns

Cooled off of late, but that's to be expected with Eric Bledsoe out. Still can't figure out if they're hurting future aspirations by toiling with a playoff berth, though. Oh well, at least they're super fun to watch.

Last Week (10)

| | |
| --- | --- |
| 12 | |

Denver Nuggets

Perhaps the biggest hot-and-cold outfit in the NBA. It's maddening. And entertaining. One night they look like a dark horse contender, the next they're a stagnant mess that couldn't defend a stanchion.

Last Week (16)

| | |
| --- | --- |
| 13 | |

Memphis Grizzlies

MARC GASOL IS BACK! MARC GASOL IS BACK! MARC GASOL IS BACK!

AND HOLY COURTNEY LEE!

Last Week (14)

| | |
| --- | --- |
| 14 | |

New York Knicks

Probably overrating them, especially after that loss to the Bobcats. But man, the Knicks have looked, well, just fine. That's cause for optimism in the "Wait, basketball's actually a sport?" Eastern Conference.

P.S. Where art thou, J.R.? 

Last Week (20)

| | |
| --- | --- |
| 15 | |

Atlanta Hawks

Credit them for remaining over .500. Just don't expect it to stay that way.

Related: Lou Williams is making me sad.

Last Week (13)

| | |
| --- | --- |
| 16 | |

Minnesota Timberwolves

All season I've blathered on about how tough their schedule is and yada, yada, yada, but it's time to face facts: This offense is good and this defense can be good, but 'Wolves will be lucky to snag eighth place out West.

Last Week (10)

| | |
| --- | --- |
| 17 | |

Chicago Bulls

Someone has to go, and I say this affectionately. Bulls are 3-1 since Luol Deng's departure and tied for fifth in the East. That needs to change. For the worse. So the Bulls can change. For the better.

Last Week (18)

| | |
| --- | --- |
| 18 | |

Washington Wizards

Their offense just isn't what it should be. John Wall deserves better. Luckily,  barring any injuries, they're a lock for the postseason.

Last Week (18)

| | |
| --- | --- |
| 19 | |

Brooklyn Nets

Let there be life! You know, until there isn't anymore. Despite playing stellar basketball in 2014, the Nets aren't fooling anyone: Deron Williams' ankle will likely be the death of them.

Last Week (21)

| | |
| --- | --- |
| 20 | |

Charlotte Bobcats

Breaking: The Bobcats are a top-eight defensive team. I REPEAT: THE BOBCATS ARE A TOP-EIGHT DEFENSIVE TEAM.

Also, Michael Kidd-Gilchrist's shooting form remains tough to watch.

Last Week (19)

| | |
| --- | --- |
| 21 | |

Detroit Pistons

If there was a Land of the Mediocre, the Pistons would be kings, sitting on a throne, wearing a jewel-encrusted crown while grasping a gleaming scepter taller than Yao Ming.

Last Week (24)

| | |
| --- | --- |
| 22 | |

Sacramento Kings

These are the actual Kings, and with the exception of a hiccup against the pretty-much perfect Pacers, they've been playing pretty damn good lately. Helps that Rudy Gay is channeling his inner anti-Rudy Gay. Helps even more that DeMarcus Cousins the best center in the NBA.

Last Week (27)

| | |
| --- | --- |
| 23 | |

New Orleans Pelicans

Tough break for these guys. Ryan Anderson and Jrue Holiday. On the bright side, if the Pellies land a top-five pick, they get to keep it. #SuckItPhilly

Last Week (15)

| | |
| --- | --- |
| 24 | |

Los Angeles Lakers

Nick Young's girlfriend, Iggy Azalea, is the Australian version of Ke$ha. That is all.

Last Week (22)

| | |
| --- | --- |
| 25 | |

Utah Jazz

Definitely not a good team, but absolutely impressive considering many had them figured for the league's worst record. That said, winning more games than the Sixers, Magic and Bucks won't do them much good come the draft lottery.

Last Week (28)

| | |
| --- | --- |
| 26 | |

Cleveland Cavaliers

When do we stop talking about the possibility Cleveland may miss out on LeBron James and screw up this Luol Deng thing, and start talking about Kyrie Irving becoming a flight risk?

Now? Okay then.

Last Week (21)

| | |
| --- | --- |
| 27 | |

Philadelphia 76ers

Really interested to see what becomes of Evan Turner and Thaddeus Young. Sixers are tanking quite nicely these days, but you get the feeling moves are inevitable—especially with Turner, who could leave for nothing this offseason.

Last Week (23)

| | |
| --- | --- |
| 28 | |

Boston Celtics

RAJON RONDO IS ALMOST BACK! And general manager Danny Ainge is expected to shop him, thus confirming what the Celtics have denied all along: Rondo isn't their future.

But still…RONDO IS ALMOST BACK!

Last Week (25)

| | |
| --- | --- |
| 29 | |

Orlando Magic

"Not even I thought we were going to be this bad." -Jacque Vaughn

Last Week (29)

| | |
| --- | --- |
| 30 | |

Milwaukee Bucks

Please let John Henson remain healthy. And please make Larry Drew play Zaza Pachulia less. Most of all, please, oh please, give Larry Sanders the ability to think and act like an adult. Or even a fifth-grader. Either one would be an upgrade.

Last Week (30)