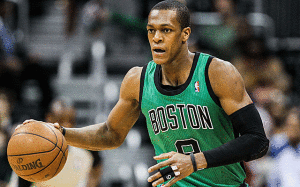 Boston Celtics general manager Danny Ainge has maintained all along he will not be trading Rajon Rondo.
He was lying.
Probably.
Maybe.
According to ESPN's Chad Ford, the Celtics are expected to shop the All-Star point guard once he's healthy:
All three of the teams ahead of them have at least one young player they can conceivably build around. The Celtics? Rajon Rondo could be that building block. But he turns 28 in February, has posed chemistry issues in the past and there is an increasing belief among NBA circles that GM Danny Ainge will use him, once healthy, to get multiple assets back. So the chances that he's the Celtics' cornerstone moving forward look slim.
Using the same logic, I've been called crazy. And stupid. Asked what I was smoking. Once, someone even asked me what I was snorting. Guess that's the risk you run when suggesting Ainge isn't entirely truthful.
But here we are. Rondo is nearing his return, and the question can finally be posed: What's next?
The Celtics are 13-26 on the season, or right on schedule. They're tanking. Ainge would never cop to it. Rookie head coach Brad Stevens would never admit it. But that's what they're doing.
When Rondo returns, he makes them better. Much better. That's a problem in the dismal Eastern Conference, where the Celtics are still only three games back of the final playoff spot.
If they really want to remain bad, they'll trade Rondo for future assets, expiring contracts and those draft picks Ainge loves so much. Then they're free to continue to tanking.
Going on 28, Rondo isn't the future of this team. By the time they're ready to legitimately contend again, he'll be 30 or 31, or older. That's assuming he doesn't leave during summer 2015, when he becomes an unrestricted free agent—which he could. If the Celtics aren't contenders by the end of next season (likely), he could spurn them in free agency, leaving Ainge and friends with nothing.
Do the Celtics want that? Absolutely not. They want to tank and receive value in return for Rondo, so expect them, at some point, to trade him.
When? And where?
Let's not even begin to fathom where. The trade market is a fickle business and until Rondo is officially available, pinpointing a destination is impossible.
As for when, I'd say soon. It all depends.
Ainge is taking a risk here, you know, waiting. He could have flipped Rondo for a serious return while he was injured, but he's apparently banking on him returning to form and netting a higher value. With the way point guards have been dropping like flies—Russell Westbrook, Derrick Rose, Chris Paul, Jrue Holiday, Steve Nash, Deron Williams, etc.—the Celtics may not be able to move Rondo so easily if he suffers another injury upon return.
But hopefully, that won't be an issue. Rondo will return as his old self and inevitably become part of the ever-churning rumor mill.
Just like Ainge and the Celtics always planned.
We think.
Dan Favale is a firm believer in the three-pointer as well as the notion that defense doesn't always win championships. His musings can be found at Bleacherreport.com in addition to TheHoopDoctors.com.