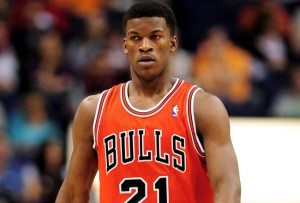 Jimmy Butler thinks the Bulls are grimy—in a good way.
Following Chicago's triple-overtime victory over the Magic, Butler was exhausted.
"Y'all can go with me right now because I can't move," he told reporters, according to The Chicago Tribune's K.C. Johnson.
"Tired" probably isn't the appropriate word. Butler logged a franchise-record 60 minutes, 20 seconds in a contentious, two-way battle against Orlando, a game that, at times, it didn't look like the Bulls were going to win. But they did win. Took them 15 extra minutes of play to do it, but they still won.
Because, you know, they're grimy and stuff.
"We're grimy and we play as a team," Butler said. "There's no guy who doesn't give all their effort on every single play. When you play like that, good things happen. The basketball gods will reward you."
Once again, I question whether "grimy" is the right word or not. Butler is basically suggesting the Bulls are dirty, which I doubt he means, though with the way they play defense, it's essentially true.
What he's trying to say—and actually said after—is that the Bulls persevere. Because they do.
No Derrick Rose? No Luol Deng?
No excuses.
Having "more than enough" to win is a concept Tom Thibodeau introduced long ago, and one he embodies by working his players to the bone without regard for minutes, water breaks or broken bones. Chillax, I'm (mostly) kidding.
Thibs is what he is, and the Bulls are what they are—stingy, cohesive and, in Butler's words, grimy. Every night, on the backbone of a second-ranked defense, the Bulls are going to compete. Are they going to win? Maybe, although they're not supposed to.
Regardless what players and coaches say, the Bulls are in tank mode without Rose and Deng. The front office would prefer they lose, increasing the value of their 2014 draft pick.
Only the Bulls aren't losing. They're 4-1 since dealing Deng and are tied for the fifth-best record in the Western Conference. That, even this soon, wasn't supposed to happen. But it did. Because the Bulls are grimy.
Coach Thibs won't allow them to fold. Give him five players, 10 legs, 10 arms and an industrial-sized tub of pomade, and he'll give you a fight. In most cases, like last season, it's inspiring. Exactly what a team hoping to contend should want in a coach.
This year, competing is Chicago's enemy.
Even if the Bulls make the playoffs, they're not going anywhere. There's no title to be won in Chicago. Not this season. Maybe not even next season, depending how healthy Rose is.
For the sake of their future, the Bulls want to lose. Not the actual Bulls—the suits. The ones calling the shots. The ones who will inevitably trade more players to ensure the roster reflects their current goals and mindset.
Yet no matter what general manager Gar Forman does, no matter who he trades, there may not be enough blatant subtraction in the world to deter Thibs and his gritty band of badasses from competing. Because they're crafty. Determined.
Grimy.
Dan Favale is a firm believer in the three-pointer as well as the notion that defense doesn't always win championships. His musings can be found at Bleacherreport.com in addition to TheHoopDoctors.com.