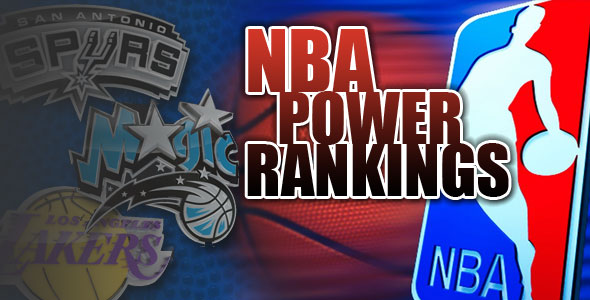 Things change in the NBA all the time.
Preseason basketball is often considered meaningless because, well, it is. It's supposed to be a time for star players to work through rust, fringe players to secure roster spots and coaches to nail down rotations. And in many ways, that's what it is.  But it's also a breeding ground for injuries and regular-season altering setbacks.
Teams are already incurring an excessive number of bumps and bruises. Players are going down, many of them significant names and some of them unsure whether they'll be ready to start the regular season. That's on top of the players who were already sidelined (insert collective sheesh here).
Outside of injuries, certain teams just aren't what they're built up to be. Exhibition contests are flimsy measuring sticks, but we are able to glean plenty of lessons early on, none more important than what most teams will be playing for this year.
Will they be contending for a championship? A first-round exit? Are they purposely tanking? Accidentally horrible? Are we not quite sure what they are yet?
Tentative answers to those questions will be provided now, ahead of the regular season. Think of this as your team's ambition primer, where you'll learn who figures to be playing for a title, who wants Andrew Wiggins the most and who may have no idea what the hell it is they're doing.
**Welcome back to The Hoop Doctor's PG-13 NBA Power Rankings, where almost anything goes. Language may sometimes not be suitable for those reading at work, in which case I recommend you don't read these aloud or you get a new job. Like most PG-13 movies, we'll permit one F-bomb per post. Know that we won't always use it, though. I'm not an animal.
***For a week by week list of all our NBA Power Rankings this season, please visit this page.
NBA Power Rankings
| | |
| --- | --- |
| 1 | |

Miami Heat (3-0)

Contender. Times 100. Greg Oden is slowly but surely getting healthy and Michael Beasley somehow seems like less of an idiot, even after whaling on himself. Oh, and LeBron James has yet to fall off the face of the Earth. Even in the preseason, it's good to be the Heat.

Last Week (1)

| | |
| --- | --- |
| 2 | |

San Antonio Spurs (1-2)

Contender. Against my better judgment, I find myself wondering if this, in fact, will be the year San Antonio plays its age. All has been quiet from the Spurs. Maybe too quiet. Ah screw it, who am I kidding? They're going to be just fine.

Last Week (2)

| | |
| --- | --- |
| 3 | |

Chicago Bulls (3-0)

Contender. Derrick Rose's knee is sore! Derrick Rose's knee is sore! Sound the alarm! Whatever alarm it is you must sound to indulge the drama queens, that is. Chicago is going to be just fine, so long as Tom Thibodeau understands the value of minutes management.

Last Week (3)

| | |
| --- | --- |
| 4 | |

Oklahoma City Thunder (2-0)

Contender. My God Jeremy Lamb and Perry Jones III have been difficult to watch. Thankfully, they still have Kevin Durant. And thankfully, I'm still low on the Clippers and Pacers.

Last Week (4)

| | |
| --- | --- |
| 5 | |

Golden State Warriors (1-2)

Contender. Hear me out; I'm not drunk. I may have had a few chardonnays, a snifter or two of brandy and two six packs, but what of it? This is less an indictment on everyone else and more a public acknowledgment that the Pacific Division is officially up for grabs.

Last Week (6)

| | |
| --- | --- |
| 6 | |

Los Angeles Clippers (2-1)

Pretender. Blake Griffin's knee injury, however small, made me queasy. This team could very well turn into a powerhouse, but right now, people are higher on them than Beas on Mary Jane. That's a problem.

Last Week (5)

| | |
| --- | --- |
| 7 | |

Indiana Pacers (0-3)

Contender. At some point, their shoddy-ass preseason performance is going to concern me. I've yet to reach that point though, on account of all the alcohol I drank in support of Golden State.

Last Week (7)

| | |
| --- | --- |
| 8 | |

New York Knicks (1-2)

Contender. I'm putting myself on the line for Carmelo Anthony and the Knicks here, and calling them a contender. Meanwhile, I know they're one Anthony shoulder pop away from playing for trophies made out of shit-flavored lettuce.

Last Week (8)

| | |
| --- | --- |
| 9 | |

Houston Rockets (2-1)

Pretender. Last week, I swore to myself I wouldn't put the Rockets in the top 10 before the regular season, because of Dwight Howard playing power forward and stuff. Seven days later, I'm sold on them not sucking…or legitimately contending.

Last Week (11)

| | |
| --- | --- |
| 10 | |

Memphis Grizzlies (1-2)

Contender. I Mean, Pretender. Actually, I mean… Sigh. Something tells me we better get used to seeing Memphis dip in the standings this season as they grit 'n grind their way to the middle.

Last Week (9)

| | |
| --- | --- |
| 11 | |

Brooklyn Nets (2-1)

Pretender. So Deron Williams could miss the start of the season and we're still supposed to believe the Nets are better than the Knicks? Riiiiiiiiight. In other news, my pet unicorn tells me garden gnomes around the world are planning a revolution in the name of Travelocity.

Last Week (10)

| | |
| --- | --- |
| 12 | |

Denver Nuggets (2-1)

Pre-Contender. Thus far this preseason, I've seen Evan Fournier get down with his French self, Timofey Mozgov shoot jumpers and Brian Shaw's half-court heavy offense not spoil Kenneth Faried's energy. Shit, if Danilo Gallinari and Wilson Chandler are ever fully healthy, the Nuggets may have something here. Again.

Last Week (12)

| | |
| --- | --- |
| 13 | |

Minnesota Timberwolves (2-2)

Pre-Contender. Ecstatic that an entire week went by and I wasn't forced to butcher the Timberwolves' ranking. Seriously, I'm so thrilled I could grow a Kevin Love-like beard. If only I could grow a beard. And if only I was partial to looking like a grizzly bear and a lumberjack reproduced.

Last Week (13)

| | |
| --- | --- |
| 14 | |

Atlanta Hawks (1-2)

Mediocre and Loving It. Another week goes by, and the Hawks still define middling. In other words, all is right with the world.

Last Week (14)

| | |
| --- | --- |
| 15 | |

New Orleans Pelicans (4-0)

Purposely OK. Repeat after me: I must not buy into their preseason performance. I must not buy into their preseason performance. I must not buy into—fuck it, they've been playing so well I'm going to overrate them at least once.

Last Week (17)

| | |
| --- | --- |
| 16 | |

Los Angeles Lakers (2-2)

Confused, and Hoping They Serve Pie at the Draft Lottery…Just In Case. We still don't know what's happening with Kobe Bryant and Mike D'Antoni is already talking like a coach who expects Steve Nash to ride some serious pine this season. Until Kobe gives us a timetable or cops to having a bionic knee, Los Angeles remains a fringe-playoff team at best.

Last Week (15)

| | |
| --- | --- |
| 17 | |

Detroit Pistons (2-1)

Still Wishing They Were a Pretender. Wait, are the Pistons, dare we say, good? Er, no. Mostly, they're just not as banged up as everyone else.

Last Week (19)

| | |
| --- | --- |
| 18 | |

Washington Wizards (0-2)

What John Wall's Shoes Said. It's a shame Emeka Okafor went down, because the Wiz had a chance to make a serious leap. Oh well, here's to a potential playoff berth and the inevitable first-round exit that would come with it.

Last Week (20)

| | |
| --- | --- |
| 19 | |

Dallas Mavericks (1-2)

Contending to Pretend. Consider this my formal request for Mark Cuban to trade Dirk Nowitzki to a real contender, not a team that plays one on TV, in his dreams or looks good next to the Bucks.

Last Week (16)

| | |
| --- | --- |
| 20 | |

Portland Trail Blazers (1-2)

Not This Year. Something tells me Blazers fans are going to be disappointed come the regular season. That, or Damian Lillard is going to make me look like a goddamn fool before the All-Star break.

Last Week (18)

| | |
| --- | --- |
| 21 | |

Cleveland Cavaliers (2-0)

LeBron? Are You There? I had a dream that Andrew Bynum returned and played well for the Cavs. Then I woke up and found out Jarrett Jack was hurt. Whatever that means.

Last Week (21)

| | |
| --- | --- |
| 22 | |

Toronto Raptors (3-1)

Wannabe Tankers. If preseason records mattered, the Raptors would have a shot at contending. But they don't, so they don't.

Last Week (22)

| | |
| --- | --- |
| 23 | |

Milwaukee Bucks (0-3)

Inadvertent Tankers. Milwaukee assembled a roster that was seemingly mediocre. It won't be long before we find out they're really, really bad. Call it a happy accident.

Last Week (23)

| | |
| --- | --- |
| 24 | |

Boston Celtics (1-3)

TANKER ALERT. Rajon Rondo could return in December. Or January. How long before we start hearing April?

Last Week (24)

| | |
| --- | --- |
| 25 | |

Orlando Magic (1-2)

Actually rebuilding. Go figure, right? The Magic could be really bad or they could surprise some people. All that matters is they're headed in the right direction. Also, Tobias Harris will be a fantasy steal. Draft him or dye your hair purple trying.

Last Week (25)

| | |
| --- | --- |
| 26 | |

Utah Jazz (1-2)

TANKER ALERT. Trey Burke gets injured and they move up? I know, right? Their bigs always find a way to produce, and Gordon Hayward at the point forward makes me smile. Sactown is also doing its best to sabotage Utah's tanking efforts.

Last Week (27)

| | |
| --- | --- |
| 27 | |

Phoenix Suns (3-0)

TANKER ALERT. Yeah, I'm still trying to figure this one out…

Last Week (29)

| | |
| --- | --- |
| 28 | |

Charlotte Bobcats (1-2)

CHARLOTTE BOBCATS ALERT. Big men plus lower body injuries are a recipe for disaster. Al Jefferson's health is going to be a problem all season, partly because the 'Cats need him to play 35-plus minutes a night. Only in Charlotte can a team tank without actually trying to tank.

Last Week (26)

| | |
| --- | --- |
| 29 | |

Sacramento Kings (2-1)

Kings Being the Kings. My condolences go out to Carl Landry. Not so much the Kings, since they felt he was worth $27 million.

Last Week (28)

| | |
| --- | --- |
| 30 | |

Philadelphia 76ers (2-2)

TANKER ALERT. After actually winning in the preseason, I fully expect Sam Hinkie to trade Thaddeus Young for Andris Biedrins and Evan Turner for a box of Yodels.

Last Week (30)