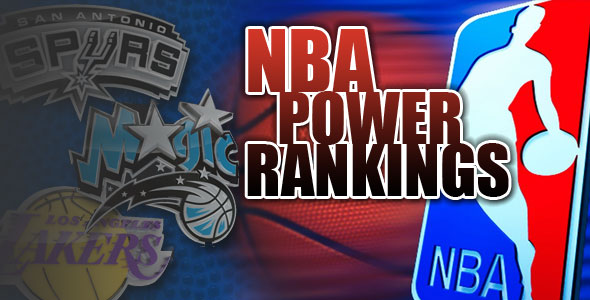 The NBA is supposed to be fun. A lot of people understand that. Others don't. Those people, the overly serious and belligerently antagonistic ones, won't want to see what follows.
This mark's the inception of The Hoop Doctor's PG-13 NBA Power Rankings, where almost anything goes. Language may sometimes not be suitable for those reading at work, in which case I recommend you don't read these aloud or you get a new job. Like most PG-13 movies, we'll permit one F-bomb per post. Know that we won't always use it, though. I'm not an animal.
Obscure, sometimes off-color, metaphors and analogies will also rule the day. We'll be coming up with random and, at times, hopefully relevant themes to keep things interesting as well. And we're never, ever going to take things too seriously. 
Because there's a time and a place for powerfully serious, no-nonsense pieces—this just isn't it. 
Not to say I don't want this to move you. I hope it does. I hope it moves you to laugh, to smile and, if we're lucky, maybe even compel you to use that pretty little brain of yours.  Most of all, though, I hope it forces you to have fun.
So consider yourselves warned. We're off, and there's no turning back.
*****************
NBA power rankings can be a bitch and a half. Especially now. Everything is guess work at this point. Well actually, most of the time it's guess work. During the preseason and the first month or so of the regular season, it's just more guess work than usual.
But we plow on. Like boats beating against the current, or a single guy on the prowl waging war with his eye candy's smothering, and rather unattractive, best friend. Yet we need to do these, even now. The offseason is over. The dead of summer is no more. Rejoice, be glad and hope that the Derrick Roses and Kobe Bryants stay healthy.
For this particular edition, preseason records are given because, well, I didn't want to leave that section blank. Capiche? And those magnificent little arrows that will normally be illustrating how far up or down a team has moved from a week before, will simply be showing whether their collective stock is up or down at the moment. Next time, things will be a bit more regular. Or as routine as possible when we're still stuck in the preseason, happy enough that the offseason is over, but pining for the regular season to get here already.
Now breathe.  Sit back, grab your cocktail of choice and a platter of cajun gravy fries for good measure. We're officially off.
**For a week by week list of all our NBA Power Rankings this season, please visit this page.
NBA Power Rankings
| | |
| --- | --- |
| 1 | |

Miami Heat (1-0)

Dwyane Wade's health concerns me and Chris Bosh always seems one game away from an everlasting decline. But LeBron James continues to give me hope that you can one day debate whether or not Michael Jordan was the G.O.A.T without having someone wedging a Jordan-sized stick in between your ass cheeks.

Last Week (—)

| | |
| --- | --- |
| 2 | |

San Antonio Spurs (0-0)

Never ever doubt the Spurs. Never. Ever. I did once. And I still have the scars from the time Gregg Popovich borrowed that Jordan-sized stick to prove it.

Last Week (—)

| | |
| --- | --- |
| 3 | |

Chicago Bulls (2-0)

Barely a second into Rose's return, I'm sold. On him. Not Joakim Noah's foot. Or Tom Thibodeau's ability to limit his players' minutes. Or Carlos Boozer's "Come see the back of my van" facial hair.

Last Week (—)

| | |
| --- | --- |
| 4 | |

Oklahoma City Thunder (1-0)

It pains me to write anything bad about the Thunder; Kevin Durant's the equivalent of a lanky teddy bear. Upon realizing Kevin Martin's gone and Russell Westbrook is on the sidelines, though, you can't help but worry. I'm taking the optimistic route here, knowing full well Scott Brooks' simplistic offense could come back to kick me in the nards.

Last Week (—)

| | |
| --- | --- |
| 5 | |

Los Angeles Clippers (1-0)

Hot damn the Clippers are good. They could also be overrated. A lot of that hedges on Doc Rivers asking DeAndre Jordan to do more than catch lobs, block shots, miss free throws and anchor the group bro-hugs he, Blake Griffin and Chris Paul most definitely share.

Last Week (—)

| | |
| --- | --- |
| 6 | |

Golden State Warriors (1-1)

I wasn't going to go here. But then I was like "Shit, why not?" The Warriors are good. Really good. While some are fussing over the absence of a backup point guard not named Toney Douglas, I'm left smitten by all the offensive talent Golden State has. If Andrew Bogut and Stephen Curry can stay healthy, the Dubs could be one of the best two-way teams we see all year.

Last Week (—)

| | |
| --- | --- |
| 7 | |

Indiana Pacers (0-1)

Inevitably, hoards of people from Indy will think I'm still underrating the Pacers. I'm not. I don't trust them during the regular season, when defense isn't as much of a driving force. Also, WHY IN GOD'S NAME DID THEY GIVE A 33-YEAR-OLD DAVID WEST $36 MILLION OVER THREE YEARS?!?!?

Last Week (—)

| | |
| --- | --- |
| 8 | |

New York Knicks (0-0)

The Knicks got better this offseason. A lot better. They procured a scorer in Andrea Bargnani who can play the 3 on offense, man the 4 on defense (though not well) and isn't known for offering up his "pipe" on Twitter. Carmelo Anthony won't have to take as much of beating this year, which is huge since Amar'e Stoudemire will be lucky to play in 40 games. I'm not saying they'll win a title, but they're going to win the Atlantic Division.

Last Week (—)

| | |
| --- | --- |
| 9 | |

Memphis Grizzlies (0-1)

Memphis' placement stands to change if they deal Zach Randolph for spare parts like they did Rudy Gay. Pulling the trigger on such a deal could be the difference between a top-10 finish, and a postseason-less finale in 2014.

Last Week (—)

| | |
| --- | --- |
| 10 | |

Brooklyn Nets (0-0)

I get it, Brooklyn. You guys totally traded for Kevin Garnett and Paul Pierce. Five years ago, I would have been so excited for you. Right now, I'm cautiously optimistic you'll make it out of the first round.

Last Week (—)

| | |
| --- | --- |
| 11 | |

Houston Rockets (0-1)

Putting Dwight Howard at power forward will make the Rockets less of a contender and more of an expensive tank job. Thus, I implore Kevin McHale to wake up and smell the ugly destruction of his offense before it's too late.

Last Week (—)

| | |
| --- | --- |
| 12 | |

Denver Nuggets (1-0)

Every time we figure the Nuggets to suck, they wind up spitting in our face. So I'm going to overestimate them here and see if it pays off. Also, the injured Danilo Gallinari has great hair.

Last Week (—)

| | |
| --- | --- |
| 13 | |

Minnesota Timberwolves (0-1)

If Kevin Love and Ricky Rubio can stay healthy, this team has a real shot at the playoffs. If they can't, they have a good chance of winning the "Fate really fucking hates us" award. Again.

Last Week (—)

| | |
| --- | --- |
| 14 | |

Atlanta Hawks (0-1)

Don't ask me why, but I believe in the Hawks. I believe that even without Josh Smith they'll stay mediocre. And I believe hybrid-guard lineups comprising Jeff Teague and Dennis Schroeder will be more fun to watch than the Manning brothers' "Football on Your Phone" commercials.

Last Week (—)

| | |
| --- | --- |
| 15 | |

Los Angeles Lakers (1-1)

In an attempt to beat everyone to the punch, I'm going to say Kobe remains healthy, the Lakers make the playoffs and Nick Young shoots better than 43 percent from the field. Actually, never mind. Forget that last one.

Last Week (—)

| | |
| --- | --- |
| 16 | |

Dallas Mavericks (0-1)

Dallas has made a big stink about making the most of Dirk Nowitzki's twilight years. All its done thus far is completely waste his twilight years. At least this season we'll get to see them disappoint Dirk while playing some Monta ball.

Last Week (—)

| | |
| --- | --- |
| 17 | |

New Orleans Pelicans (2-0)

Part of me wanted to put them higher, what with Jrue Holiday being an All-Star and Anthony Davis taking over the stretch forward world one anti-tweezing campaign at a time. Tyreke Evans and Eric Gordon make for quite the injury-prone duo, though. And I'm not quite sure what to make of Austin Rivers just yet. They'll need another year to figure things out, I'd say.

Last Week (—)

| | |
| --- | --- |
| 18 | |

Portland Trailblazers (0-1)

Their stock should be up. Way up. LaMarcus Aldridge and C.J. McCollum should also be healthy. Sometimes things don't work out. Damian Lillard should be fun to watch again. Just in case that helps.

Last Week (—)

| | |
| --- | --- |
| 19 | |

Detroit Pistons (0-0)

Question that will define Detroit's regular season: Are there enough long twos to go around between Josh Smith and Brandon Jennings?

Last Week (—)

| | |
| --- | --- |
| 20 | |

Washington Wizards (0-0)

Everybody do the John Wall. No, that's not carry your team on your back and into the playoffs. That's the James Harden. Play near-.500 basketball, miss the playoffs and earn a max extension. That's the John Wall.

Last Week (—)

| | |
| --- | --- |
| 21 | |

Cleveland Cavaliers (0-0)

We're going to the playoffs! If Andrew Bynum, Anderson Varejao, Kyrie Irving, Dion Waiters and Anthony Bennett manage to stay healthy, that is. Related: There's a good chance the Cavs are not going to the playoffs.

Last Week (—)

| | |
| --- | --- |
| 22 | |

Toronto Raptors (1-0)

You get the feeling Masai Ujiri is just itching for the Raptors to fall out of playoff contention so he's given the green light to trade Rudy Gay. That, or he's of the mind this current group will self-destruct in five, four, three…

Last Week (—)

| | |
| --- | --- |
| 23 | |

Milwaukee Bucks (0-0)

Somehow the Bucks figure to be both unwatchable during the regular season, but deep enough to keep their never-ending string of mediocrity alive.

Last Week (—)

| | |
| --- | --- |
| 24 | |

Boston Celtics (0-1)

Looks like they're tanking. Smells like they're tanking. Danny Ainge says they aren't tanking. He also says there isn't a franchise-changing star in the upcoming draft. So, they're tanking. Or going to contend for the eighth and final playoff spot in the Eastern Conference. But mostly the tanking thing.

Last Week (—)

| | |
| --- | --- |
| 25 | |

Orlando Magic (0-0)

Whatever's going on in Orlando, I like it. Minus Victor Oladipo's positional identity battle, of course. The Magic will only cop to him being a basketball player they intend to let play. Everything else is a mystery.

Last Week (—)

| | |
| --- | --- |
| 26 | |

Charlotte Bobcats (0-0)

This was finally the year it would pay to be the Bobcats. Then they signed Al Jefferson, who won't make them good, but will take them out of the Andrew Wiggins sweepstakes completely. Which was so very Bobcats of them.

Last Week (—)

| | |
| --- | --- |
| 27 | |

Utah Jazz (0-0)

Tough to take a team Andris Biedrins calls home very serious. There's a solid core in place with Gordon Hayward, Enes Kanter and Derrick Favors. Still, losses are going to pile up for the Jazz in this transition year. Sort of like they're tanking, even though they're not.

Last Week (—)

| | |
| --- | --- |
| 28 | |

Sacramento Kings (0-1)

This roster is impossible to figure out. Save for center, there's a free-for-all at every position. By season's end, Mike Malone's squad will reside somewhere between "should have tanked" and "I can't believe we played that bad on accident."

Last Week (—)

| | |
| --- | --- |
| 29 | |

Phoenix Suns (1-0)

Dear Ryan McDonough,

Please trade Channing Frye and Goran Dragic to the Rockets.

Signed,

Those Who Know You're Tanking and Don't Want to See D12 Play Power Forward.

Last Week (—)

| | |
| --- | --- |
| 30 | |

Philadelphia 76ers (1-0)

The Sixers are going to be the NBA's version of a booty call. Opponents will roll in, lay them on their back and score. Staying true to form, they'll also only call on Philly 2-4 times a year to meet their needs. These Sixers are that bad.

Last Week (—)