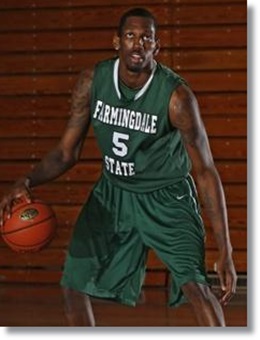 With only a few weeks remaining until the 2013 NBA Draft, every NBA team should be doing their homework and scouring tape to get the skinny on each and every prospect in this year's crop of players.
Especially in a year where most experts agree that there are no real All Star caliber superstars, it is even more important for teams to leave no stone unturned in an attempt to get the best value for their pick, which may even include dipping into either Division II, III, or the NAIA .
In the past, there have been very few players to make it to the highest level of basketball from smaller schools in the subdivisions like former NBA Defensive POY Ben Wallace, Darrell Armstrong, and Ronald"Flip" Murray.  In addition, according to the NBA, only 9 players have ever made the jump from Division III straight to the Association.
Because of some tremendous financial restraints from the multi-year contracts handed out to Carmelo Anthony, Amare Stoudemire, and Tyson Chandler, the New York Knicks may be one of those teams willing to dip deeper into the lower levels of college basketball or even trade out of their #24 pick in the 1st Round in an effort to sign a player on the cheap.
Based on a recent article in the NY Post, the Knicks haven't had to look very far as they have their sights set on an athletic 7 foot center from nearby Long Island, who just happens to be a Division III standout at Farmingdale State University.
Not much footage is available of senior AJ Mathews, but several teams in addition to the Knicks have shown significant interest in the suddenly promising prospect who wasn't even invited to the Chicago pre-draft camp earlier this month.
Now this isn't a joke, or some publicity stunt like a few years ago, when a Division III player that averaged a paltry 2 ppg entered his name in the 2010 NBA Draft, in an effort to impress his friends and tell his grandkids that he once was in the same draft as John Wall and Evan Turner.
In addition to the Knicks looking for a back-up point guard to spell both Ray Felton and the aging Jason Kidd in this year's draft, another big with a penchant for defense and rebounding may fit the bill, especially with Stoudemire looking like a shell of his former self, Rasheed Wallace retiring, and Marcus Camby nearing 40.
Albeit against lesser competition, Mathews fits a definite need as the Division III All American 1st Teamer averaged 22.4 ppg, 16.3 reb, 3.75 blocks, aided by a phenomenal 7'3 wingspan.  He has reportedly already signed with the famous Arn Tellem agency as he has an individual workout scheduled with the Knicks this week.
Check out THD's latest 2013 NBA Mock Draft 3.0, with up to date predictions of your favorite players and teams.
AJ Mathews '12-'13 Senior Season Highlights:
Allen Moll has been a lifelong NBA and NCAA College Basketball fan who watches and studies games religiously, and coaches youth basketball in his native Lehigh Valley region of Pennsylvania. Allen has also provided content to Bleacherreport.com, Upperdeckblog.com, Cleveland.com, CSN Philly.com, Buckets Magazine, in addition to being a tenured NBA and NCAA columnist for TheHoopDoctors.com.