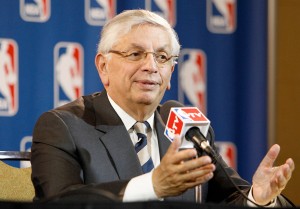 Last night, the officials stole the show in game 4 of the Eastern Conference Finals. Questionable calls went both ways so you can throw the conspiracy theory notion out the window. However, it doesn't excuse sloppy officiating. This should be a time to praise good play, rather than focus of referees and the NBA is aware of this.
The league will review some of the questionable calls that took place last night. I'm not sure what this means exactly, or what can be done retroactively, but it shows this isn't being swept under the rug.
NBA officials are looking at several controversial calls in Game 4 of the Eastern Conference finals as they sift through the fallout from the Pacers' 99-92 victory on Tuesday night, league sources told CBSSports.com.

The most obvious missed call was a blown 24-second call against the Pacers by crew chief Joe Crawford with 8:26 left in the third quarter. Replays showed that Roy Hibbert's attempt hit the rim, which should've resulted in the shot clock resetting. The Pacers were leading 81-72 at the time, and Miami subsequently went on an 11-2 run to tie the game at 83-83.
H/T: CBS sports