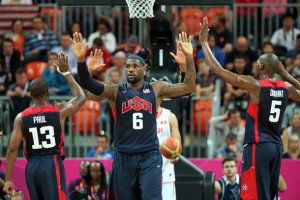 It sounds odd just even saying it out loud. The International Olympics Committee (IOC) is actually considering adding three players a side, half court basketball to the list of events for the Rio 2016 Olympic Games. 3-on3 hoops is fun to play and fun to watch, but maybe I'm a bit old school. When it comes to official international basketball, I'd like to keep it straight up 5 on 5 full court….
With three years until the Rio Games, 3-on-3 basketball and BMX freestyle are trying to join the Olympics….

The IOC has options to add "radically new events" in Rio, Dubi said, with some designed for youth audiences.

Three-a-side half-court basketball successfully debuted at the 2010 Youth Olympics in Singapore, and the International Cycling Union proposes adding street-style BMX and a mountain bike eliminator, which is a sprint race involving four riders.

"You have new properties that are not mainstream yet outside of the Olympics, but where the Olympics could give a boost," Dubi said. (via ESPN)
It's still a bit of a long shot that 3-on-3 will be added to the Rio Olympics, but if it were to be added, who do you think the US should send to represent the Country?
I've got my money on playing small ball with Lebron James, Kevin Durant, and Chris Paul. Then again the international competition has a lot of good outside shooters, so maybe it would be a smarter play to go with a lineup of Ray Allen, Carmelo Anthony, and Dwight Howard?
This whole three on three game, raises a lot of interesting questions for Team USA.
Who is your 'big three'?